vice president of information systems
Hendricks Regional Health
Major organization achievements during tenure
Davis said the most challenging and exciting time during his career at Hendricks Regional Health was the migration to a single electronic medical record system in 2018. "I've never seen so many people come together in such a way to pull off such a daunting task. The very tight deadline, technology hurdles, and extensive end-user training and logistical requirements made this project one for the ages. Projects of this scale can pull organizations apart—this one made ours even stronger." Davis is also proud of his team's work in the area of cybersecurity. "Security threats are the new reality these days, and it's a constant battle to try to stay in front of the bad guys."
Recent tech problem solved
Migrating to the Epic electronic medical record system included rewriting dozens of interfaces, doing a complete workstation refresh (including doing acceptance testing of each machine to meet Epic standards), and setting up a training center for the hundreds of classes that needed to take place. "We used a grass-roots approach to create an innovative, on-site training facility built from donated mobile classrooms from a local community school partner. Named 'Epic Village,' it was the cornerstone of our efforts to train 1,600 end users in six weeks."
Challenge faced that only tech people would understand
"A running joke between our IT team and executive management is that we in IT just unplug one thing and plug in another—it's just that simple, right? We tech folks know there are many moving parts to making our systems work and sometimes technology doesn't always work as expected."
First computers
older DOS-based machines followed by a Compaq Presario CDS510
The road
Davis' interest in technology dates back as far as he can remember. "I've always tinkered with various electronic devices, often taking them apart and putting them back together. It was not uncommon for me to build new contraptions in my childhood bedroom to find automated ways to do things around the house." He attended electronics classes throughout high school and was selected to be part of a small group that built a fully functional airplane. In college, Davis did repair and support for a computer repair company, doing component-level repair on various electronics, including point-of-sale devices, computer monitors and printers.
Eventually, he got into networking and computer administration for small businesses. At Hendricks Regional Health, he's worked as a technician, network engineer, security architect and in IT management. "I am always looking to maximize our use of technology to improve efficiency, security and stability."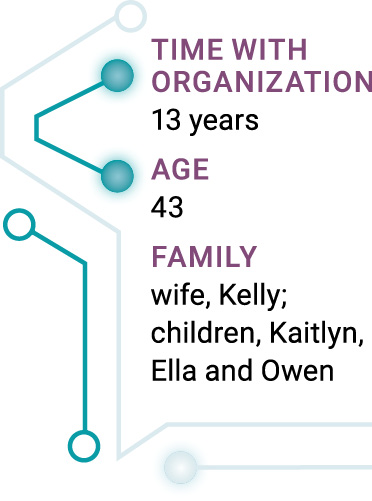 Go-to websites
Gartner, Google, Wikipedia and several cybersecurity sites and news feeds
Favorite gadgets
Gadgets that tie things together—home security, music, home entertainment systems, etc. "These things can now all be done by the little computer we carry around in our pocket."
Preferred work atmosphere
"I wholeheartedly believe in an open, collaborative work environment."
My job would be easier if …
"everyone had an in-depth understanding of technology and how things connect and work together. Of course, that's not always possible, and I don't pretend to fully understand a clinician's world. The challenge is finding a middle ground of communication … generally, we're able to get there."•
Check out more CTO honorees.
Please enable JavaScript to view this content.