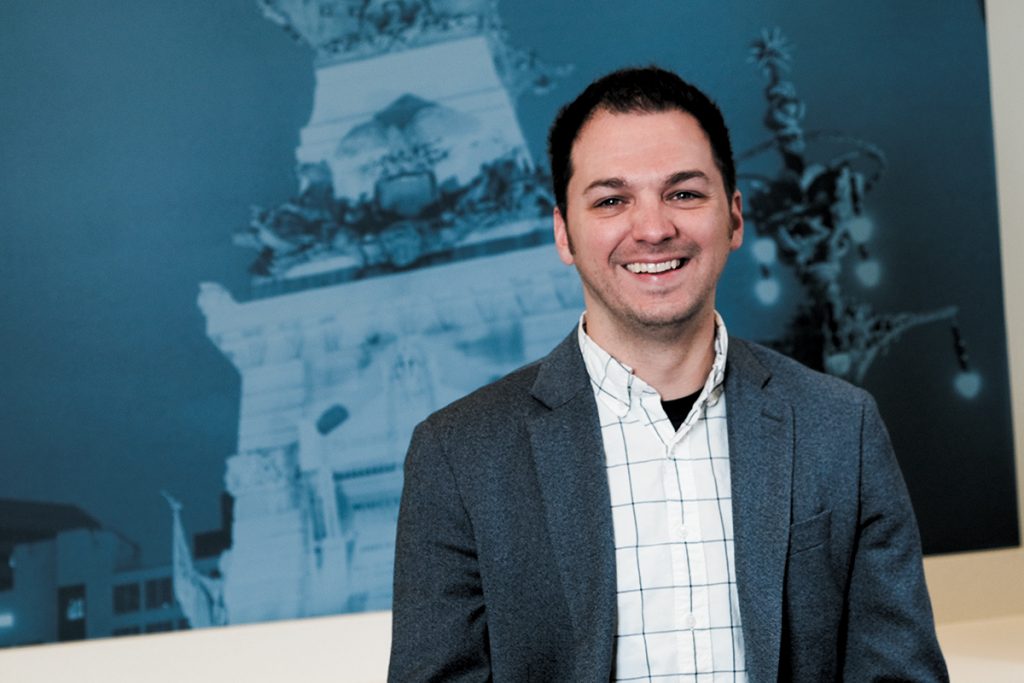 Executive Director
Butler Arts & Events Center
The thousands of people who saw an event at Butler University last year can thank Butler Arts & Events Center Executive Director Aaron Hurt and his team. Hurt oversees a $4.5 million budget and leads a group of 30 in planning performances and other engagements at Butler's five event venues to contribute to the cultural enrichment of both Indianapolis and the university he serves. And Hurt and his team just took over the conference services department for the entire campus.
Getting here: Hurt's ties to the arts are familial: He comes from a line of movie projectionists, and his grandfather helped install the first curtain at Clowes in 1963. After studying performance management in college, Hurt pursued an MFA at the Art Institute of Chicago. But he quickly came back to Indianapolis and to his first job at Butler, when the master's program didn't appeal to him.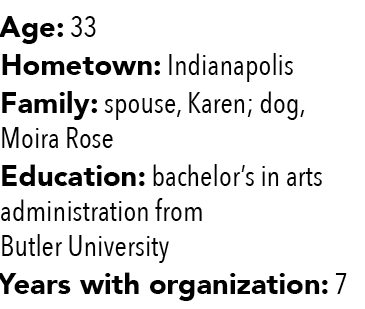 First jobs: Selling freezer popsicles to neighbors and, like other kids, cutting grass. His first real job was at Frank's Nursery & Crafts watering plants and selling Christmas trees.
Proud moment: An evening where everything went wrong. "It was early on in the opening of the Schrott Center, and we lost power during a show," Hurt said. "I was able to see my procedures and event-staff trainings kick in and work in real time."
Mentor: "Dave Lawrence, the former president of the Arts Council of Indianapolis, has been a true asset. He was my first boss out of college, and even as I moved on, he was always readily available for a chat or a coffee."
Givebacks: Trustee for the IATSE Local 30 Pension Board, served on the Host Committee for the 2018 Arts Midwest Conference in
Indianapolis and on the Universities Sector Committee for the International Association of Venue Managers in 2017. He also mentors Butler students interested in venue management.
Downtime: "I've been renovating a small cabin out in the middle of nowhere with my father."•
Check out more Forty Under 40 honorees.
Please enable JavaScript to view this content.