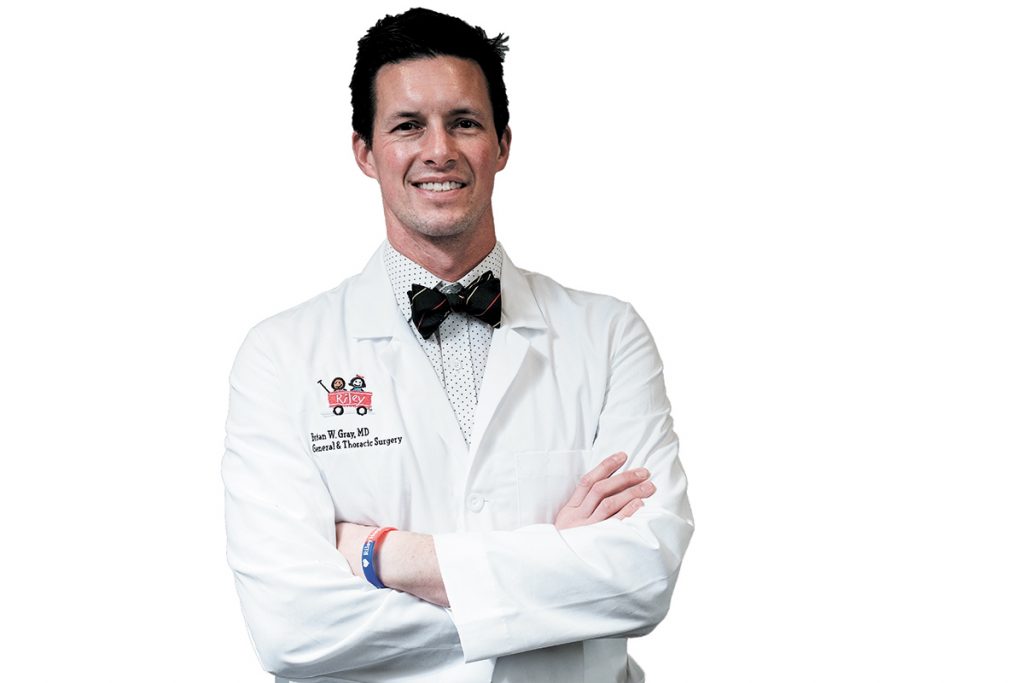 Assistant Professor of Pediatric General and Thoracic Surgery
Indiana University School of Medicine
Surgical Director of Extracorporeal Membrane Oxygenation
Riley Hospital for Children
Dr. Brian Gray, a pediatric and thoracic surgeon, has been a key part of Riley Hospital for Children's plan to build a $124 million Maternal Fetal Center, expected to open in 2021, that will centralize maternity and newborn care for Indiana University Health's three downtown hospitals. Troubled by Indiana's alarmingly high infant mortality rates, Gray joined the Riley steering committee responsible for development of the center and pushed for the project to include a surgical unit so doctors can respond to high-risk cases on site. He's undergoing additional training so he can perform surgery on a fetus in the mother's uterus. Gray is also a faculty member at the IU School of Medicine.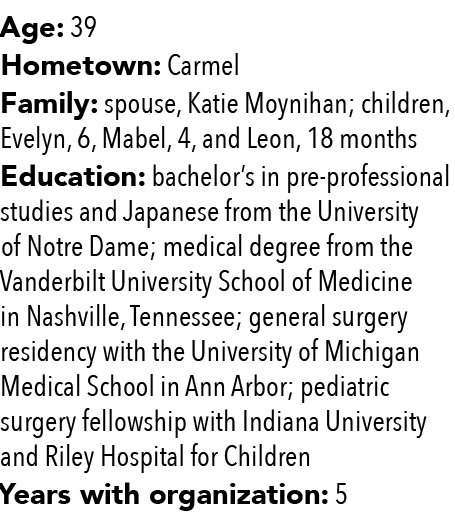 Getting here: His mother practiced as a nurse for a local optometrist, exposing him to patients at a young age. After attending the University of Notre Dame, he went to medical school at Vanderbilt University and then to the University of Michigan to complete training in extracorporeal membrane oxygenation, a surgery used to address severe heart or lung failure. Gray also researched artificial placenta technology to treat premature babies. He joined Riley full time after completing a fellowship there.
First job: mowing lawns and serving as a YMCA day camp counselor
Influential moment: "The first operation after training where I served as the attending surgeon was rather powerful. It was incredibly humbling to think that a family had entrusted their child's well-being to me. That feeling never gets old."
Influential person: His grandfather, Bud Alderson. "He was a farmer and horse breeder for over 50 years. Time on the farm with him taught me about the value of hard work and persistence in everything I do. He also taught me to value the quiet time with family when work is done."
Downtime: Spending time with his kids at Newfields, the Children's Museum of Indianapolis and the Indianapolis Zoo. "We also like to get out of town to camp when we get the chance," Gray said.•
Check out more Forty Under 40 honorees.
Please enable JavaScript to view this content.