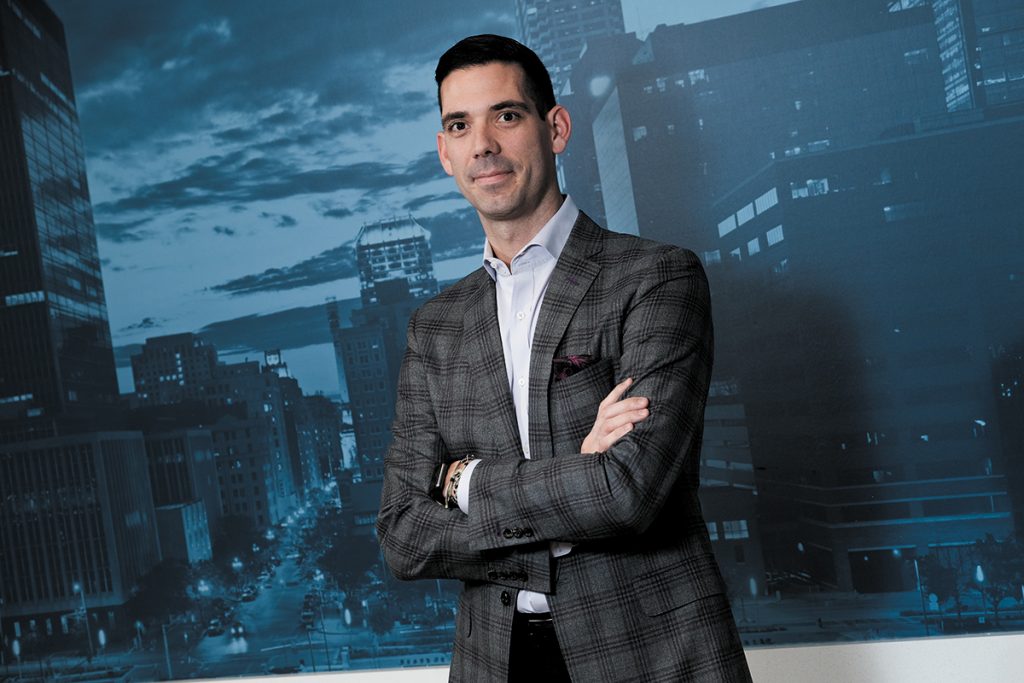 Partner and President
California Closets
Marcus Hall's varied career wound through Pacers Sports & Entertainment, ExactTarget and even his own pocket-square subscription startup before arriving at an Indianapolis-based California Closets franchise, where he's now a partner and president. Hall said this latest mission—to design innovative storage spaces for families, workspaces and communities—has allowed him to embrace his career constant: building relationships throughout the Midwest. "My career has been a bit of a winding road," Hall said. "But the one consistent thing throughout has been the emphasis on relationships."
Getting here: Hall started his career as a sales and marketing manager for the Indianapolis Tennis Championships. After building connections there, and then as a sponsorship sales manager for the Indiana Pacers and Fever, he moved to ExactTarget. During much of that time, Hall was meeting with two mentors he met through the Pacers—Charlie Meyer and Mark Riggle of Threefold, an umbrella firm for a number of property services franchises. They invited Hall in 2015 to join them as a partner in a California Closets franchise that now has business in Indiana, Illinois, Ohio and Kentucky.
First job: Working for his father's home remodeling business. "I was responsible for job-site cleanup and some very basic construction tasks. My father was meticulous about the details … so I would often be on my hands and knees picking up trash," Hall said.
Proudest moment: When California Closets leadership closed operations for a day to support employee mental health. "This was a small action in the grand scheme of things, but it's one that gives me great joy."
Mentors: Longtime friend and colleague Tim Kopp. "Tim was a customer of mine years ago when I was at the Pacers and we started our relationship based on his willingness to let me pick his brain on the software industry and what it took to be successful," Hall said.
Givebacks: Serves on the board of EDGE Mentoring and volunteers for the Indiana Sports Corp.
Downtime: "I have an incredible, adventurous wife and two energy-filled twin girls that I enjoy spending time with outside of work."•
Check out more Forty Under 40 honorees.
Please enable JavaScript to view this content.