Owner
Plat Collective
Mark Nottingham's passion is people and neighborhoods, not necessarily houses—and that's the secret behind the success of Plat Collective, the residential real estate brokerage he founded in 2011 as Nottingham Realty Group. His goal is to connect people to the city of Indianapolis by finding them homes in urban neighborhoods. Today, the company has 75 agents who are shaping communities throughout Indianapolis. That includes his own neighborhood of Herron-Morton Place, where he serves on the Herron High School Board and owns a cafe, Foundry Provisions.
Getting here: After graduating from Penn State University, Nottingham joined Young Life, an evangelical Christian not-for-profit that focuses on teens. But at the request of his brother, Josh, he left the organization after four years to help grow their family car company, MATS.org. He then moved to Indianapolis with his wife in 2007. When the housing market crashed in 2008, he formed his real estate firm. "I love helping people achieve their vision of 'home' and am passionate about urban Indianapolis," Nottingham said. "It is a great joy of mine that I get to combine those two things and help many of my peers do the same."
First job: collecting golf balls at a Richmond driving range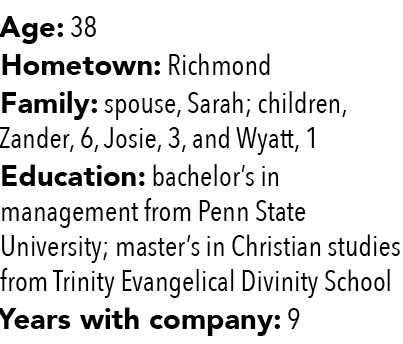 Proud moment: "I am proud of our team for the way we have served an urban marketplace that was short of good service providers a decade ago."
Mentors: Many, but three stick out: "Bill Taft with LISC, Don Palmer of Palmer Auto Group and Jerry Brand with INOK investments," Nottingham said. "From all three, I have learned that hard work, clear thinking, patience and considering others' needs is a good formula for success."
Givebacks: board member at Habitat for Humanity, Herron High School, City Center Young Life and Redeemer Presbyterian Church
Downtime: spending time with his wife and kids, golfing•
Check out more Forty Under 40 honorees.
Please enable JavaScript to view this content.