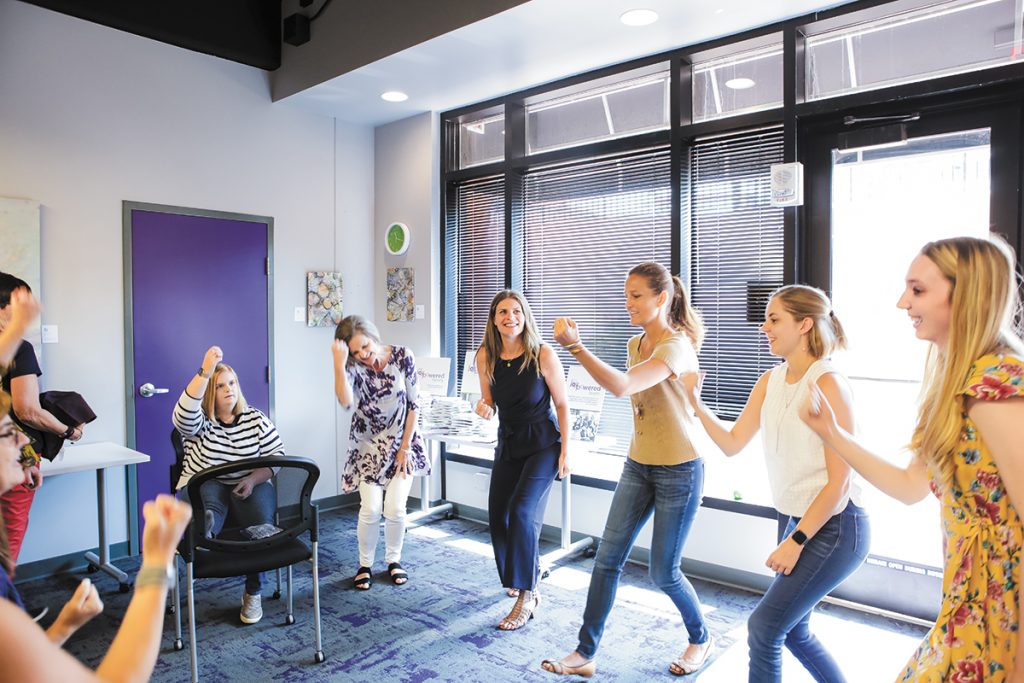 Beth St. Clair, a 43-year-old consultant and owner/CEO of ActUp Consulting, teaches managers and employees how to use the principles of improvisational acting to share ideas and work as teams. But she never thought she'd need such principles to help herself weather the anxiety and fiscal uncertainty of a pandemic.
Needless to say, a business centered on in-person collaborative group exercises has been hit hard by the coronavirus.
"Some things have just been canceled, some things have been postponed, and some of our clients have been willing to test our sessions out virtually," St. Clair said.
Drawing on the same improv principles that infuse her presentations, she is so far unfazed.
Well maybe a little fazed, but not panicked.
"One of the big things I've learned through improv is adapting in the moment," she said. "That's the reason I got into it. Improv taught me to cultivate the ability to just show up and not have a lot of certainty. Focusing on what's in front of me right now, and then moving on to the next thing, is helpful. It's also a strategy to deal with anxiety, including my own."
If this sounds a bit like the Buddhist practice of mindfulness, then you and St. Clair are on the same page.
Improvisational comedy or acting is a form of performance in which the characters, dialogue and plot are made up by the actors on the fly. The performers piece together a production built from concepts that are presented in real time.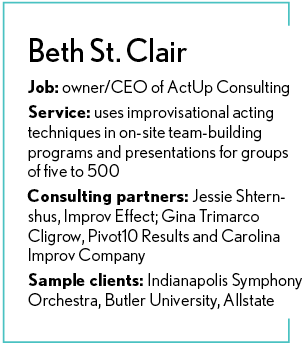 This wasn't always part of St. Clair's mindset. Before moving to Indianapolis almost a decade ago to be with her wealth-management-adviser husband, she was a high-powered, Washington, D.C.-based business consultant.
And her strategies for success didn't include using improvisational tricks to develop fresh lines of thinking. Far from it.
"I went to business school and was trained to look for what was wrong with ideas," St. Clair said. "So if someone had an idea, I might offer 10 reasons why it wouldn't work. But with improv, you have to take that concept and see where it goes. It builds creativity and helps people move forward."
She bought into this mindset while participating in a beginners' class put on by a group called D.C. Improv. She found she had a lot in common with many of her classmates.
"There were a lot of professionals there, like lawyers and consultants," St. Clair said. "Professional-level people were doing it to either have fun, or to improve communication or their ability to react in the moment. So I felt like I was in a group of like-minded people, which was really helpful.
"I started to get obsessed by it."
Not that its collaborative nature caused her to immediately drop her Type A ways.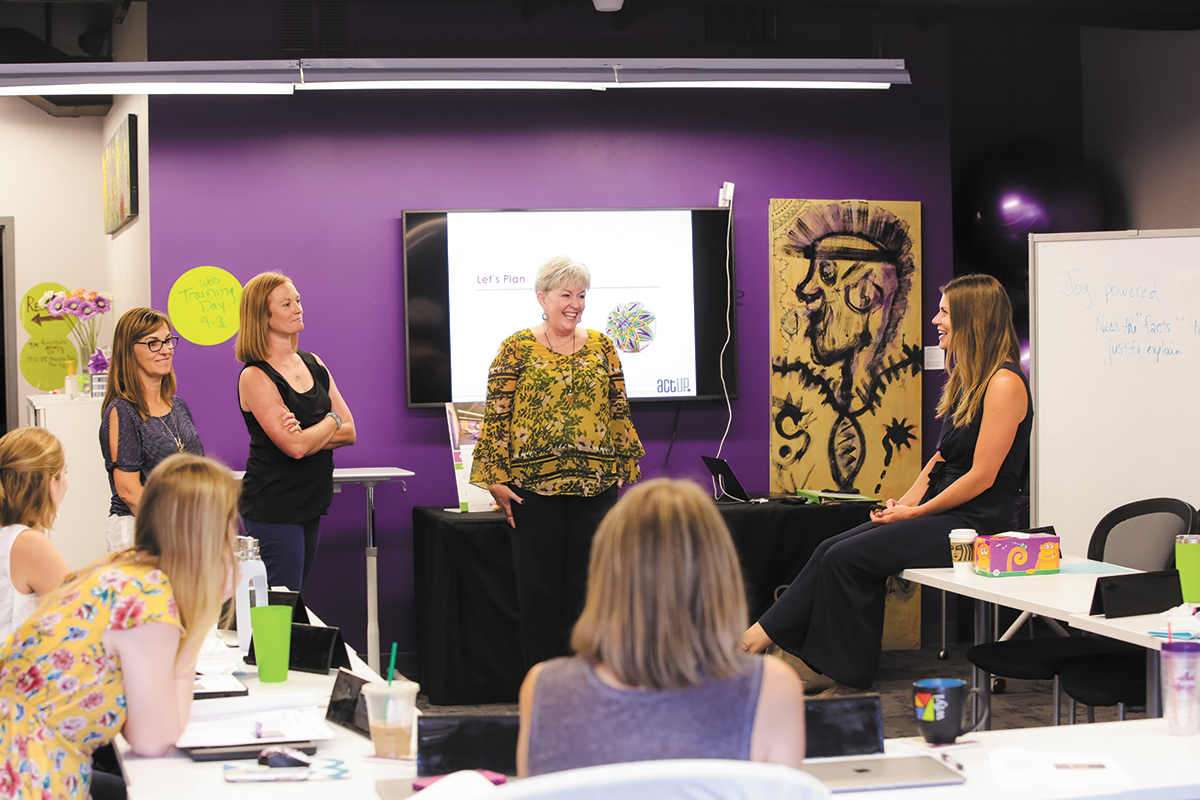 "When I started performing back in the day, I would try and rely on my old skill set," she said. "I would try and control the scene, or my team partners would say a line, and I would be so focused on my anxiety and what I was going to say next that I would totally miss it.
"I learned I need to listen, and to understand what's happening in the scene right now. There's no place for anxiety to live when we're focused on the present."
St. Clair said such techniques do more than decrease stress. They also offer business-oriented benefits by developing leadership and teamwork. Many of her classes focus on principles lifted straight from improvisational theater training—celebrating failure, for instance, or adapting to the moment, and making your fellow performers look good.
"If we're really in this together, then I have your back, and it's not about my success or your success," St. Clair said.
Using improv principles isn't entirely unknown to the world of team building. For instance, the "yes, and" concept is almost as familiar to business folks as it is to improvisational thespians.
The rule encourages actors (and businesspeople) not to reject new ideas out of hand, but to agree with the proposal and develop it. In theory, it helps employees and managers become more receptive to novelty and promotes team development of new concepts.
"It's sort of industry-agnostic," St. Clair said of her approach. "If you look at my client roster, it's many different industries."
Her past customers include Butler University, Allstate and the Indianapolis Symphony Orchestra.
"Our team had a blast working with her, and also learned a lot," said JoDee Curtis, owner of Carmel-based HR services company Purple Ink. "Most of us tend to think just in terms of yes and no, but 'yes, and' is so much better and more positive."
St. Clair also worked with trueU, an Indianapolis not-for-profit whose mission is to help purpose-driven companies develop their employees' potential.
"A year later, and we still from time to time work as a team and say, 'yes, and,'" said Gretchen Schott, trueU's vice president for learning and development. "She made it safe for us to lean into creativity and be open to innovating on ideas."
As the pandemic plays out, St. Clair recognizes she's at the mercy of outside forces. But she's OK with that.
"We don't know what the end will be," she said. "So focusing on what's in front of me right now, and then moving on to the next thing, is helpful. And it's also a strategy to deal with anxiety, myself included."•
Please enable JavaScript to view this content.