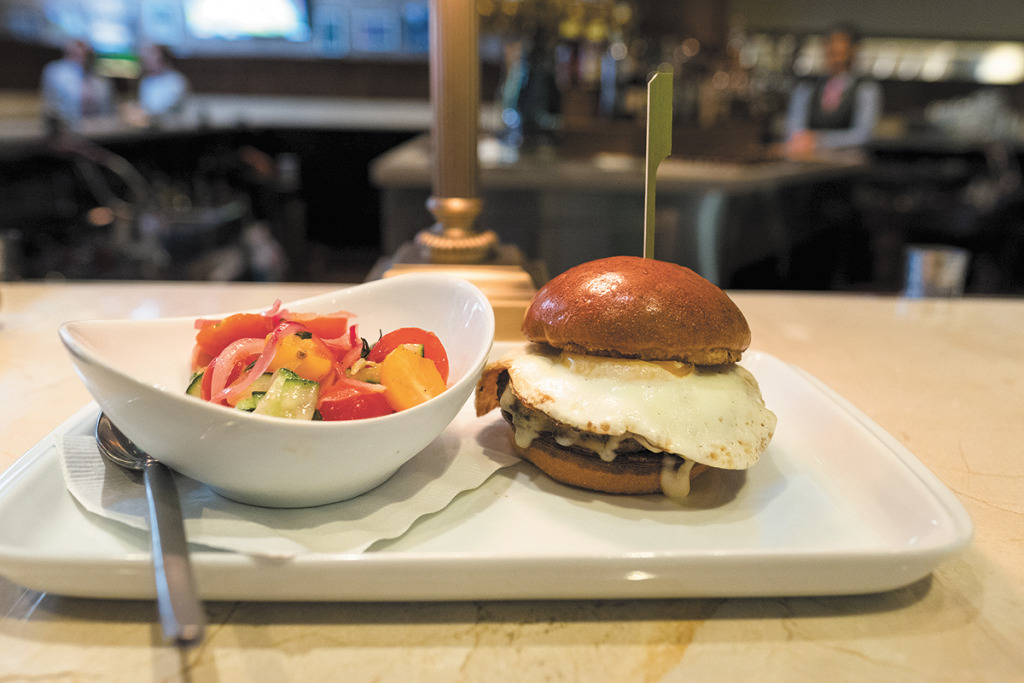 Dozens of central Indiana restaurants have closed since the pandemic hit in March—some almost right away, unable to weather the forced closure of their dining rooms. Others gave up the ghost later, after takeout or restricted indoor dining failed to keep them afloat.
Among the prominent closures:
National restaurateur Kimbal Musk said on March 23 that he would not reopen the Next Door restaurant that had initially closed because of the pandemic. The restaurant at 4573 N. College Ave. had opened a year or so earlier in a former Double 8 Food store.
Broad Ripple restaurant Brugge Brasserie closed permanently on April 30, after serving takeout during the pandemic. Co-owner Ted Miller posted on Facebook that the owners "plan to open a new Brugge somewhere, sometime."
The owner of the upscale Fleming's Prime Steakhouse & Wine Bar chain announced May 1 that it was closing its Keystone at the Crossing area—its only location in Indiana.
The owners of Fishers-based Redemption Alewerks announced May 4 they would permanently close the 6-year-old brewpub, which was at 7035 E. 96th St.
Former Indianapolis Colts linebacker Gary Brackett announced on May 6 that he was shutting down his Stacked Pickle chain of sports bars. At the time, Stacked Pickle listed 10 locations on its website—nine in Indiana and one in Dayton, Ohio.
The area's last remaining Bravo! Cucina Italiana Restaurant—at the Willow Lake East shopping center at 2658 Lake Circle Drive, closed permanently in May amid the bankruptcy proceedings of its corporate parent, Orlando, Florida-based FoodFirst Global Restaurants.
Old Pro's Table, a 30-year-old sports bar in Broad Ripple, called it quits permanently on May 15. The bar at 827 Broad Ripple Ave. offered a menu that included thin-crust pizza, wings, nachos, chicken tenders and fries.
Restaurateur Ryan Nelson said on May 27 that he was closing North End Barbecue, which he'd opened in Nora Shops West along East 86th Street.
Morton's The Steakhouse closed at 41 E. Washington St. in the spring and never reopened. By May, its Texas-based parent company, Landry's Inc., had removed the location from its website.
Restaurant, bar and entertainment venue Punch Bowl Social closed its Circle Centre mall location in mid-March for the pandemic and never reopened. In June, the restaurant's owners said they planned to reopen, but by mid-summer, the location had been emptied.
The Mug permanently closed its Irvington restaurant at 118 S. Audubon Road in June, but its original Greenfield location remains open at 117 Apple St.
Pittsburgh-based restaurant-and-bar chain Primanti Bros., which once had four locations in the Indianapolis area, closed its last one—in Circle Centre mall—in June.
The Dancing Donut, which opened in 2015 at 1134 E. 54th St. in Broad Ripple, closed June "after our last donut dances from the shop at 1 p.m.," owner Kate Drury posted on the business's Facebook page.
John's Famous Stew, a meat-and-potatoes eatery with a history in Indianapolis going back to 1911, announced on July 11 that it would not return from a coronavirus hiatus. Owner Tom Caito died in November 2018, but the restaurant had continued under the ownership of his daughter, Mary Caito.
Duos Kitchen—which in 2012 grew out of a food truck into a stand-still, lunch-only eatery at 2960 N. Meridian St.—closed permanently in September.
Downtown Indianapolis restaurant Dick's Bodacious Bar-B-Q closed for good Sept. 5. The 50 N. Pennsylvania St. location was the last of 10 Dick's Bodacious Bar-B-Q restaurants that once operated in central Indiana under various owners.
Indianapolis-based Sahm's Restaurant Group, which operates more than a dozen restaurants and brewpubs in central Indiana, said in September it was closing Sahm's Cafeteria inside OneAmerica Tower, 200 N. Illinois St., and Sahm's Tavern, 433 N. Capitol Ave., inside the historic Gibson Building.
Huse Culinary said on Oct. 26 that it would close its Burger Study restaurant, which—at 28 W. Georgia St.—was part of Circle Centre mall and next door to its Harry & Izzy's restaurant, which remains open.
Rail Epicurean Market, a restaurant that opened in a century-old barn in Westfield more than six years ago, closed for good on Nov. 1. Owners Toby and Melanie Miles said the pandemic became too much for the business at 211 Park St. to overcome.
Shoefly Public House, which opened at 122 E. 22nd St. in Fall Creek Place in 2013, suspended operations after a staff member tested positive for COVID-19 and then decided in November it would not reopen.
Moe & Johnny's at 5380 N. College Ave. announced in November that it would close. Its owners said they planned to go "back to the drawing board."
Please enable JavaScript to view this content.