Girl Scouts of Central Indiana plans to move its headquarters and 63 employees this summer from 1800 N. Meridian St. to the
Waterfront Office Park on the northwest side at interstates 465 and 74.
CEO Deborah Hearn Smith said the move will eventually bring a cost savings, but it has other benefits. The I-465 location
will be more convenient to employees and volunteers traveling to headquarters from throughout a 45-county area. The office
park also offers adjacent parking, whereas volunteers now have to dodge traffic crossing Meridian Street. Smith said she hasn't
yet signed the lease at Waterfront. The current lease expires Aug. 30.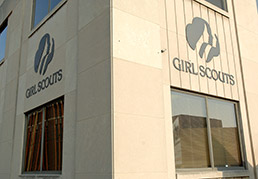 Girl Scouts of Central Indiana plans to vacate its headquarters at 1800 N. Meridian St. this summer. (IBJ Photo/
Perry Reichanadter)
Girl Scouts realigned and consolidated territories in 2007. The central Indiana council was created from five free-standing
districts, plus parts of two others. It has a current budget of $9.2 million, which includes seven regional offices.
Smith said most of the consolidation is complete, except for the pending sale of four of nine camps. The council plans to
sell camps Hawthorne Trails, Treaty Line, Windigo and Munsee. Hawthorne Trails is in Boone County, north of Wolf Run Golf
Club and Indianapolis Executive Airport.
Smith said she hasn't yet signed a contract with a broker or determined listing prices. Any savings on operating costs
will be redirected to the five remaining camps, where Smith said she plans to add staff and programs.
"We're looking at, over the next five years, having a bigger budget, not a smaller one," she said.
 
Please enable JavaScript to view this content.