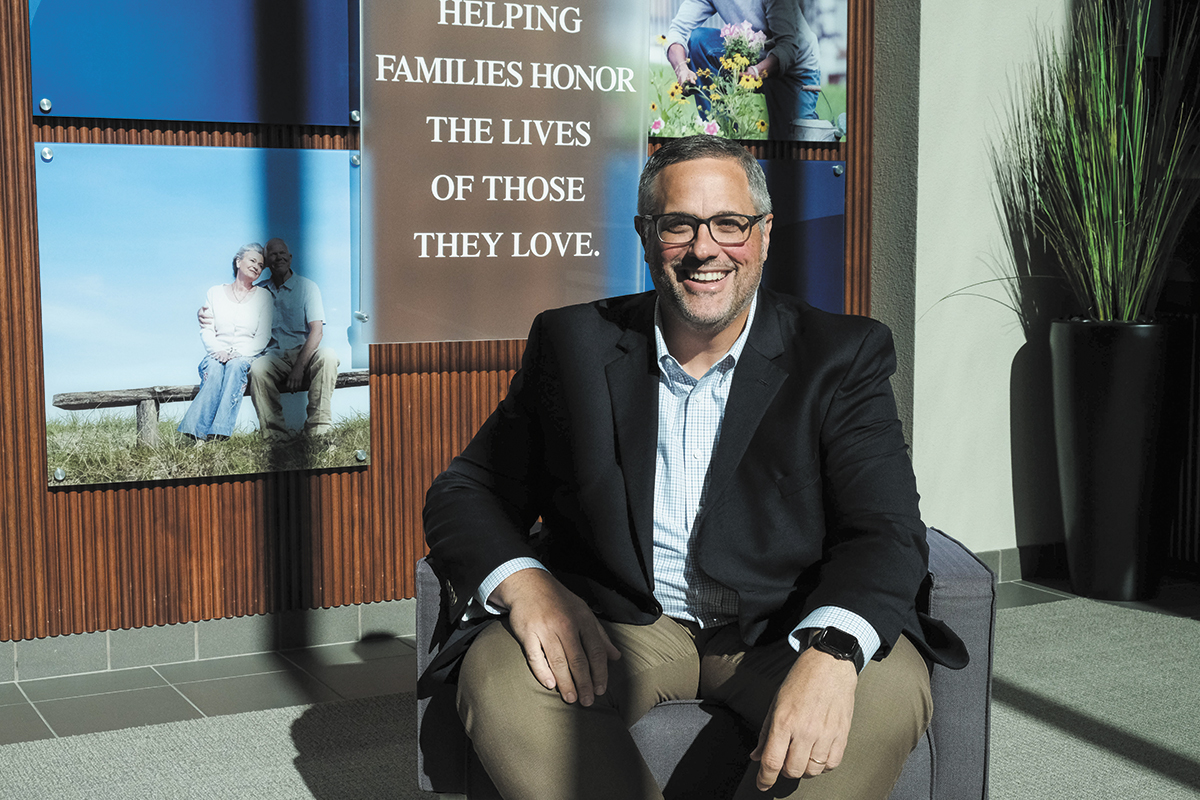 Vice President and Chief Financial Officer, Batesville Casket
Dan Harmeyer's primary responsibility is leading the finance team and working with the Batesville executive management team to deliver on its mission of helping families honor the lives of those they love. "We are a purpose-driven organization, and I am proud to be part of a great leadership team that is committed to creating and nurturing a culture where our associates feel like part of a family," he said. Batesville is a subsidiary/operating company of Hillenbrand Inc., so Harmeyer also works closely with the corporate finance leadership team on key financial performance and business metrics, planning and forecasting, and fiscal policies and programs.
Major accomplishments
Navigating COVID-19. "As an essential provider of death-care products, we realized early on that we needed to be prepared and it would take monumental efforts from the entire organization," he said. Leadership organized quickly in early 2020 and developed a framework to attack the challenges ahead. "The team tackled difficult topics quickly and calmly, reinventing workflows and adapting processes to optimize our productivity and keep our operations running so funeral directors had products to support grieving families," he said. Batesville's revenue for the most recent public reporting cycle is up nearly 16%, or $63 million, for the nine months ending June 2021, with EBITDA up nearly 39%, or $35 million.
Challenges overcome
Handling work remotely and staying connected with people during the pandemic "pushed me out of my comfort zone at first," he said. "Even now, reaching out to the team and friends and family through technology continues to be a work in progress. I learned that small things like always turning on video in meetings improves interactions … and scheduling time to just check in remotely [is] important in building relationships."
Career path
Harmeyer grew up in Batesville and the casket business. His family has been associated with the Batesville Casket Co. for three generations, dating to the 1950s. He started his career in banking in northern Indiana after college, but quickly took an opportunity to head home for a job with Batesville Casket in 1995. His early experience in transactional finance roles helped introduce him to different functions in all parts of the business. "Everyone needs to get paid, and all of our locations/functions interact with suppliers," he said. From there, he held a series of roles handling project work and reporting and analysis, primarily focused on the company's supply chain. In 2008, he was asked to take on the director of strategy role, which turned out to be a turning point. "I learned more about the industry Batesville operates in and had the opportunity to interact with the Hillenbrand leadership team and board of directors," he said. Harmeyer spent about five years leading different parts of the supply chain organization, and in 2015, he joined the executive team as CFO.

My job would be easier if…
"Effective vaccines would be more widely distributed, and treatments would continue to improve so we are finally able to fully move past the pandemic. On a lighter note, more love for finance people overall. I'm not always everyone's favorite person. Being the conscience of the company is challenging."
Community involvement
Harmeyer is on the Ripley County Community Foundation board. The foundation, established in 1997, has granted more than $15 million to the local community while building an endurable source of charitable assets for the future.
Free time
Harmeyer enjoys spending time with his family, traveling and shopping. He loves to golf, "but golf doesn't always love me," and his favorite hobby is collecting bourbon.
If people only knew
"We want the team to succeed, people to grow and develop, and the business to thrive," he said. "We won't always say yes to the next investment or project, but at the end of the day, finance professionals are great partners who can enhance outcomes for the business, so we all succeed."•
Check out more CFO honorees.
Please enable JavaScript to view this content.