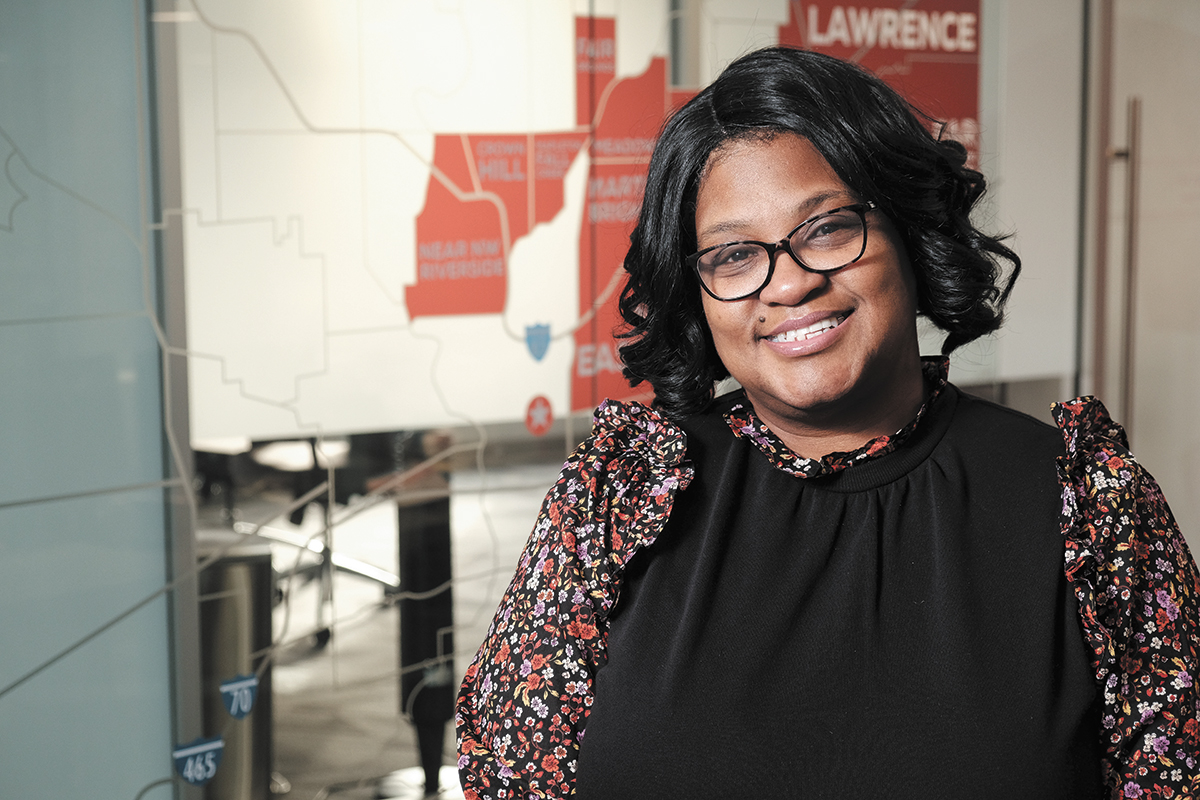 Chief Financial Officer, EmployIndy
As CFO of Marion County's workforce development board, EmployIndy, Tehea Harding oversees fiscal and administrative functions, including human resources, accounting, grants and contracts, and IT facilities. This includes oversight of an annual budget of $30 million, with more than 45 funding streams from philanthropic, local, state and federal funding sources. Additionally, she oversees the Diversity, Equity, Inclusion and Belonging affinity group, whose goal is to make EmployIndy an antiracist, multicultural organization.
Major accomplishments
Under Harding's leadership, the finance team was able to have successful and clean audits for the last three program years. She volunteered as the lead to implement a diversity and inclusion initiative across the organization. She also was a member of the committee that successfully moved the corporate office to a new location and, along with the executive team, helped build out and restructure the organization to create more teams and departments to further the group's mission.
Challenges overcome
The biggest challenge for Harding has been learning to work remotely and still be productive and efficient. "Many times, people say, 'I would love to work from home,' until it becomes an everyday lifestyle," she said. "It was challenging to create the same work environment because usual life distractions became a part of the workday. I often became anxious and stressed. I learned to overcome my anxiety by taking walks while on meetings, sitting in different surroundings, and not being so hard on myself when distractions happen." 
Career path
Harding started as a fashion merchandising major in college but switched to accounting and found her passion. "I always loved numbers," she said. While in school, she spent a few years working as a bank teller and in an operations department. After graduating, she worked at a small accounting firm but "realized that I wanted to also work for a company [or] organization that had a mission to help the community." She worked for a not-for-profit as a staff accountant, earning her MBA as she worked, then went looking for a mission-driven organization.
My job would be easier if …
"I had a couple of additional monitors, and all documents were transferable to spreadsheets. (That's an inside joke for my accounting colleagues.)"

Community involvement
Harding volunteers through EmployIndy at places like Second Helpings, Gleaners Food Bank of Indiana and Wheeler Mission Ministries (pre-pandemic). She is currently a board member of the Westside Community Development Corp., helps facilitate financial literacy with Junior Achievement at various schools, and has been involved in JA Jobspark since its inception. She is active in food giveaways, community resource fairs and school-supply giveaways at her church, Victory Tabernacle, and provides monetary donations to other organizations. She also just joined a committee through the VIP Center for Women to plan a multicultural women's luncheon.
Free time
She likes spending time with her husband, children, grandchildren, family and friends. She also loves to bake, read, play board games and watch movies—especially ones that are comic-book themed.
If people only knew
The role of the CFO involves more than finance and accounting, Harding said. "Since the CFO is generally responsible for the budget, he or she should also know everything about the people and operations of the organization," she said. "The CFO's role is sometimes the catch-all for the good and 'not so good' regarding staff and finances. Therefore, it can be stressful at times but also rewarding."•
Check out more CFO honorees.
Please enable JavaScript to view this content.