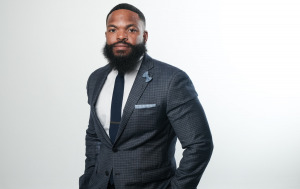 Director of Diversity, Equity & Inclusion/Procurement
Shiel Sexton Co.
Adrian Russell is responsible for fostering a diverse, equitable and inclusive workplace and culture for all within Shiel Sexton while championing this same focus in all external interactions with clients, subcontractors, local officials and community. 
Getting here: Russell had been a project manager and engineer for contractors and construction companies before moving to Shiel Sexton to become its first DEI manager. This story explains his motivation: He met an up-in-age laborer on a job in Orlando, Florida. Russell stayed after hours one evening to help the laborer lay down cardboard to protect newly finished floors. He asked the man how it was that he had never moved beyond an entry-level position. His response was, "Nobody would ever give me the chance." "In that very moment," Russell said, "I was determined to not allow his story to be repeated in my industry."
First job: Pro 100, a product of Eugene B. Glick's vision to provide employment opportunities to economically disadvantaged teens through community landscaping.

Proud moment: Being hired "for such an important position in one of the leading construction firms in our market—a position for which I do not possess a conventional background. Paired with the fact [that] no other construction firm in our local market employs a full-time DE&I director, this is a feat that I am considerably proud of."
Influential people: His parents, Marcus and Angela Russell. "My parents worked together in giving all that they had to raise eight children through perpetual poverty. I strive to make good on their innumerable sacrifices to give each of us a life which they did not have."
Givebacks: ACE Mentor Program of Indiana board member; Bethel Tabernacle Apostolic Church board member; Penrod Society member; Russell's Building Camp founder
Downtime: working out daily; playing bass guitar; renovation projects; enjoying family, food and nature •
Check out more Forty Under 40 honorees.
Please enable JavaScript to view this content.