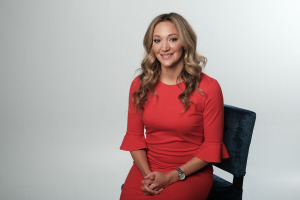 Chief Medical Officer
Indiana Department of Health
Dr. Lindsay Weaver started as Indiana's chief medical officer on Feb. 3, 2020—a month before the state had its first case of COVID-19. She has been fully engaged with the Indiana Department of Health's COVID-19 response ever since. In addition, she continues to work several shifts a month in the emergency department at Methodist Hospital as a board-certified emergency medicine physician.
Getting here: Weaver has known she wanted to be a doctor since she was 5. She came to Indiana in 2008 for her emergency-medicine residency with the Indiana University School of Medicine. After, she stayed with IU as an assistant professor of emergency medicine, working in the emergency department and physician training. She completed a fellowship in clinical ethics and a fellowship in palliative care and hospice medicine and held several leadership positions with Indiana University Health. "My career choices have been driven by service," she said. "Whether I am caring for patients in the emergency department or leading Indiana's vaccine initiative, my passion is to serve others."
First job: working in her father's restaurant

Proud moment: Leading Indiana's COVID-19 vaccine plan. "In a year of uncertainty, we needed the vaccine process to be easy, accessible and clear," she said. "I am incredibly grateful that our partners agreed. … Receiving emails, letters and texts from people sharing their stories and pictures of them getting the COVID-19 vaccine and what it means to them has been a highlight of the response for myself and my team."
Influential people: Her parents, John and Kathy Harmon. "My parents showed me how to take risks and choose the career that I want, even if it is not a straight line."
Givebacks: Before this job, she served on the board and as past president of the Indiana American College of Emergency Physicians, as well as executive director of the Indiana Patient Preference Coalition.
Downtime: family time and travel •
Check out more Forty Under 40 honorees.
Please enable JavaScript to view this content.