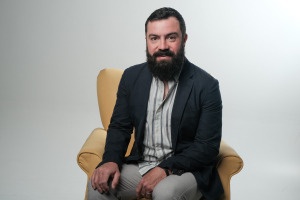 Founder and owner
Black Circle Brewing Co. and Loom
Owner
Broadway Advisors 
Jesse Rice's Black Circle Brewing Co., which opened in 2016 at 2201 E. 46th St., has transcended its identity as a brewery and has morphed into a place where all are welcome. Trans/non-binary people, the Damien Center and StepUp Inc. are some of the people and organizations that have found a home there. Loom, which Rice opened in 2020 at 1901 E. 46th St., serves as Black Circle's production facility and is also a full-service laundry and a community workspace providing patrons free WiFi and free printing services. He also runs Broadway Advisors, a small financial consulting firm focused on working with people who are looking to start their first business and/or who need personal financial assistance.
Getting here: Rice spent the first 15 years of his career working in retail finance, starting with Woodbury Financial in Carmel in 2006, followed by Enterprise Rent-a-Car and JPMorgan Chase, but left that "to focus on what fulfilled me and gave me a sense of purpose—and to protect my mental health." His goal was to make "meaningful connections locally."
First job: groundskeeper for a private family estate

Proud moment: Building Black Circle and the way it has grown to offer diverse entertainment to diverse patrons.
Influential people: Dale Self and Kyle Anderson. Self "taught me the basics and spoke about investing like other people speak about sports." Anderson is an Indiana University Kelley School of Business professor who "told me he thought I should focus on what my next business was going to be instead of thinking about who I was going to work for next. An 'enough said' moment if ever there was one."
Givebacks: Organizer of a monthly cleanup of the Keystone-Monon neighborhood, in exchange for free beer. ("This gives us all a chance to walk the neighborhood on foot, block by block, and get a better understanding of where we live.") Each month, Black Circle promotes a charity and makes a donation.
Downtime: cooking with his wife, reading, playing with the dog •
Check out more Forty Under 40 honorees.
Please enable JavaScript to view this content.