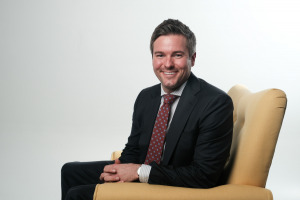 General Counsel and Corporate Secretary
Hurco Cos. Inc.
Jonathon Wright is one of five executive officers of Hurco, the industrial technology company that's one of Indiana's largest public companies. As general counsel, he is responsible for managing all aspects of Hurco's legal function on a global basis, including corporate governance, mergers and acquisitions, commercial transactions, employment and labor law, litigation and more.
Getting here: Before joining Hurco, Wright worked as an attorney in private practice, specializing in corporate law, mergers and acquisitions, capital formation, and complex commercial transactions—first at Carson LLP and then at Dentons Bingham Greenbaum LLP. "Leaving a successful, growing and rewarding private practice for an in-house legal position was not something I necessarily planned for or sought out," he said. "But the opportunity to serve as general counsel at one of Indiana's largest public companies was simply too interesting to pass up."
First job: bus boy at Edelweiss Restaurant at The German American Klub in Greenwood

Proud moment: In private practice and in-house, he's advised clients on more than 30 merger, acquisition and disposition transactions with an aggregate transaction value of nearly $1 billion.
Influential people: His parents, Doug and Susan Wright. "They are quite different individuals, but have all of the most important things in common—generosity of self, spirit and resources; unconditional love and support; and prioritization of faith and family."
Givebacks: Founded not-for-profit Focused Forward Inc., which provides financial, housing, professional and mental health resources for the homeless.
Downtime: family time, enjoying downtown, cooking, eating •
Check out more Forty Under 40 honorees.
Please enable JavaScript to view this content.