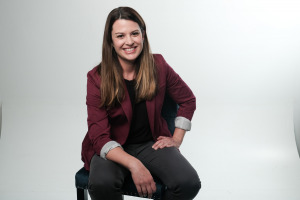 Chief Technology Officer Worldwide Defense & Intelligence
Microsoft
Kate Maxwell, a 2019 IBJ Woman of Influence, is the lead technical authority for the Worldwide Defense & Intelligence business at Microsoft, where she helps national-security customers modernize their processes, tools and operations through technology. She works with customers to understand their needs and challenges, works with engineering to deliver technology solutions and develops technology strategy to position Microsoft as a leading cloud provider and mission partner in the defense and intelligence market. In addition, she supports the next generation of STEM talent by mentoring countless individuals and personally funding and administering a scholarship for graduating women from her high school alma mater, Cocalico High School, who are entering
a technical degree of study in college.
Getting here: Maxwell has spent 17 years in the aerospace, defense and intelligence community. She was at Raytheon for 16 years as a software and systems engineer, program manager, research and development lead, global innovation director, chief engineer and tech director before moving to Microsoft. 
First job: Working at an Italian sandwich shop in her hometown, where the manager offered her this feedback: "You're one of the hardest workers we've ever had, Kate, but you can't mop a floor worth a darn."

Proud moment: A few years ago, Maxwell met former Defense Secretary Gen. James Mattis on a Washington, D.C., hotel elevator. "I took the opportunity to introduce myself and thank him for his service to our country," she said. "He paused, looked me in the eye, and proceeded to thank me for my service as a member of the defense industrial base, and then shared an example of how my company's products had saved the lives of his troops in theater."
Influential people: Her paternal grandmother, Dawn Gehman. "She pursued a col-lege degree at a time when it was not always popular for women to do so, and she dedicated her skills, expertise and generous spirit to making the world a better place."
Givebacks: TechPoint Foundation for Youth board member; The Startup Ladies board member
Downtime: skiing, paddle boarding, hanging out with her kids, reading, traveling •
Check out more Forty Under 40 honorees.
Please enable JavaScript to view this content.