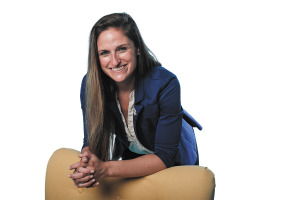 Senior Director, Marketing & Communications
Indiana Sports Corp.
Sarah Myer said she's found her purpose in serving her community, "and Indiana Sports Corp. does just that through the platform of sports." In her role, she helps compile the bids to host potential events. Once those events are secured, she is the marketing liaison to the event owner and helps them promote to and engage the central Indiana community. Because the Sports Corp. is a not-for-profit, she also helps market its fundraising efforts.
Getting here: Myer started at NUVO Newsweekly, where she worked in marketing and promotions and was encouraged to give back. Through volunteering in the arts, she found a job in marketing at the Indianapolis Symphony Orchestra, where she spent eight years. She also went through the Stanley K. Lacy Executive Leadership Series, where a classmate told her about the opening at the Indiana Sports Corp.
First job: babysitter and lifeguard

Proud moment: March Madness. "I think the way I was able to manage the people around me while facing so many challenges made me realize that I have grown so much from all of my previous experiences. It was a really proud moment once that final second hit the game clock."
Influential people: Her parents. "My mom taught me empathy, and my dad taught me hard work. I feel like that combo has made me the type of leader I want to be."
Givebacks: IndyHub board vice chair; Leadership Indianapolis marketing board member; Downtown Indy marketing board member; Second Helpings marketing committee.
Downtime: spending time with friends and family, going to concerts, running and walking •
Check out more Forty Under 40 honorees.
Please enable JavaScript to view this content.