Read more Innovation Issue stories.
The Great Toilet Paper Shortage of 2020 was one of the earliest examples of how this pandemic has disrupted supply chains.
But even as U.S. COVID-19 cases decline, supply-chain problems persist. For a variety of reasons—from shifts in consumer behavior to a plummet in available airline flights to congestion at ocean ports—the pandemic has scrambled everything across a wide swath of industries.
Soaring and unstable supply costs, shipping delays and scarcity of raw materials and finished goods have companies trying all kinds of new ways to work their way through the bottlenecks, slowdowns and uncertainty.
"The world just hyper-evolved in a lot of ways during that time, but specifically in ways that affected supply chain," said Nick Banich, chief revenue officer for the Indianapolis-based North American operations of Miebach Consulting Inc., a German-based supply-chain consulting firm. "It's on everybody's radar now."
Central Indiana companies are doing everything from stockpiling supplies to re-examining their supplier network to adding staff to tackle procurement challenges that have gotten a lot more complicated.
Indianapolis-based IMH Products—which does metal fabrication, metal stamping and machining for customers in a variety of industries—has seen steel prices both skyrocket and become extremely volatile since late last year, said President Eric Odmark.
In the third quarter of 2020, Odmark said, IMH was paying less than 40 cents per pound for steel; and when the company got a price quote from its supplier, that price might be good for a couple of weeks. Now, he said, the price is above $1 per pound and fluctuates so rapidly that a quote might be guaranteed for only four hours.
And some less-common varieties of steel are nearly impossible to find right now.
That means IMH must confirm orders with its customers quickly before material prices change. In some cases, IMH and its customers must work through engineering and quality details to see if a different kind of steel or aluminum can be used instead.
IMH, which previously devoted 2-1/2 full-time positions to purchasing, has added an extra person to that department because the supply and pricing problems are causing so much extra work. "We have so many different customers and parts to track."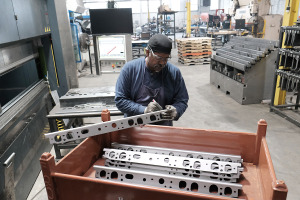 Stockpiling
Peterman Heating, Cooling and Plumbing Inc.—a Greenwood-based service company that also has operations in Indianapolis, Columbus and Lafayette—has been dealing with an intensifying shortage of furnaces, air-conditioning units and water heaters.
President Chad Peterman said many suppliers have run through the stockpiles of finished products they had at the beginning of the pandemic, and many haven't yet returned to full production because of COVID-19-related restrictions on manufacturing capacity.
As a result, Peterman has had to adapt to increased pricing, longer lead times and products out of stock.
Employees are now getting daily updates about availability, so they can avoid selling customers an item that might be unavailable. "Usually, there's more than enough equipment, and customers can buy what they want to buy."
The company is also stockpiling supplies when it can. For instance, Peterman recently placed an order for nearly 400 air-conditioning units to help see it through the busy summer months.
"We are placing large orders and warehousing them ourselves, which we've never done before," he said.
Before the pandemic, the company typically ordered products as needed, based on customer orders. But the just-in-time model has fallen apart.
"Problems that we've never had to face before, we're kind of staring at for the first time," Peterman said.
Lafayette-based Antique Candle Co. is also stocking up on supplies, said CEO and founder Brittany Whitenack.
Whitenack said her company uses U.S.-based suppliers for most of its materials, but since manufacturing was not considered an essential business in every state, some suppliers shut down temporarily in the early stages of the pandemic.
Those suppliers are back up and running, Whitenack said, but the shutdown, plus the big demand for candles over the past year, means the system is still backlogged. "A lot of those vendors are just now catching up, or the demand is so high that pricing is just now catching up."
As a defensive measure, Antique Candle Co. is keeping a larger-than-normal store of materials on hand. Pre-pandemic, the company might have kept three or four weeks' worth of supplies on hand. Now, it generally keeps six to 10 weeks' worth or more, depending on the item.
Cotton wicks, for instance, are a crucial component for which shipping time is currently about five months, compared with six to eight weeks pre-pandemic, Whitenack said. So, the company is stocking a five- to seven-month supply. "If we do not have wicks, you cannot make a single candle," she said.
Having the extra supplies on hand gives Whitenack comfort that, in case of future supply-chain disruptions, or unexpected sales growth, her company will be prepared, she said. And the company is also exploring the feasibility of producing wicks in-house.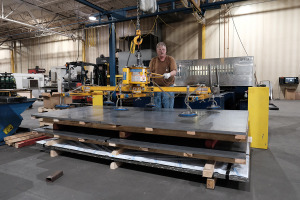 The pain points
One fundamental way the pandemic scrambled the supply chain was the huge change it produced in both what customers buy and how they buy it.
Stay-at-home orders last year drove customers to more online purchases, and the shift happened almost overnight.
'We saw companies hit their five-year plan for e-commerce within months," Banich said. "It's just changed the game."
And packing and shipping individual orders to homes is totally different than, for instance, shipping a whole pallet of one type of item to a retail store.
"It's so much more complex from a planning standpoint," Banich said.
Another factor: A significant amount of cargo typically travels in the belly of passenger aircraft. Air travel plummeted last year, and, although demand is finally close to pre-pandemic levels, it's not fully recovered.
Fewer flights means products that might have been shipped by air have shifted to ocean vessels—so transit time is much longer. And demand for shipping is up overall since consumers who haven't been spending money on vacations and restaurant meals have been buying more consumer goods, ranging from home-improvement items to bicycles. That drives up cost.
And slow ocean travel is now even slower. Pre-pandemic, Banich said, it took about a month for goods to travel by ocean, including 16-18 days on the water and time to load and unload the cargo. Now, he said, port congestion and a shortage of shipping containers means ocean transport takes more than two months.
Deep dive for data
Looking ahead, Indianapolis-based Conexus Indiana and Butler University are working on a project they hope will help companies tackle their supply-chain challenges.
Over the past year, the manufacturing and logistics industry group and the university have been gathering details on the supply chains of 40 companies around the state. The goal is to learn which manufacturers are using which suppliers, and what vulnerabilities they might be exposed to.
"There's all these intricate pieces that we are trying to put together," said Jane Siegler, assistant professor of operations and supply-chain management at Butler.
Results from the project will be shared at a joint, virtual Conexus/IBJ advanced manufacturing and logistics event on June 18.
One challenge, Siegler said, is that companies don't often know all the companies involved in their supply chain. For instance, an automaker knows which company supplies it with automotive seats. But it might not know all the suppliers involved in making the metal frame, the padding, the fabric and other components for that seat.
Another challenge is that, despite the name, the supply chain is not really a chain at all. It's a messy and interconnected network.
In the automotive example, the seat-maker is what's known as a Tier 1 supplier—a company that sells directly to the automaker. The companies that supply the parts to make those seats are Tier 2 suppliers. Companies that supply the parts that go into those seating parts are Tier 3 suppliers, and so on. And those tiers can be fluid.
"One supplier is a Tier 1 here, a Tier 4 there and a customer elsewhere," Siegler said.
The Butler/Conexus project has been able to uncover supplier networks down to the Tier 6 level, said Michael Schmierer, Conexus director of operations and strategic initiatives.
Having this information, Schmierer said, can help Indiana's manufacturers identify and address vulnerabilities.
One goal of the project, for instance, is to identify "hidden critical" suppliers—companies that might supply every manufacturer in a certain industry, but because they're a Tier 4 supplier, their crucial role in the supply chain isn't recognized until something goes wrong.
"You can follow the data and these same companies keep showing up and showing up and showing up again," Schmierer said.
Having access to this data, he said, can help companies figure out ways to build a more resilient supply chain. It might, he hopes, also help Hoosier suppliers pick up new business as customers look to fortify their supply chain with new suppliers.
All of the current disruption means logistics consulting firms are busier than ever.
Banich said Meibach's Indianapolis office, which currently has just over 40 employees, will probably double its headcount over the next few years.
The pandemic has accelerated a lot of supply-chain-related trends that were already in the works, he said, which has motivated companies to put new scrutiny on how they do things. "Companies are actively working to troubleshoot this, both short term and longer term in terms of some systemic issues."•
Please enable JavaScript to view this content.