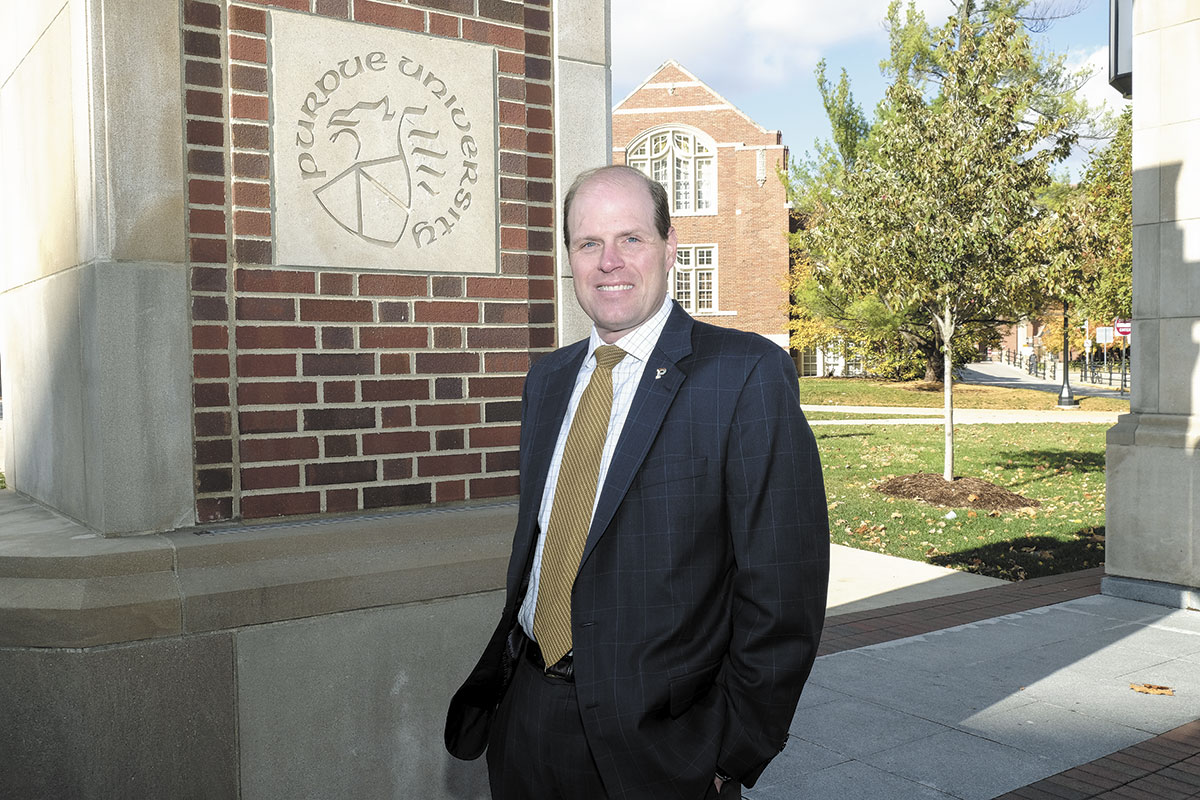 Executive Vice President, Chief Financial Officer and Treasurer, Purdue University
Christopher Ruhl leads all financial management, business services, treasury, human resource, information technology, sponsored research programs and internal audit functions at Purdue University, which has a $2.5 billion annual operating budget across all its campuses and Purdue Global. He also chairs the university's Investment Committee, overseeing Purdue's multibillion-dollar endowment, and is chief financial officer of Purdue University Global, which serves nearly 35,000 working adults across the United States through online certificates and degrees.
Major accomplishments
Ruhl has played a role in keeping Purdue affordable through an 11-year tuition freeze that Purdue says has saved students and families more than $1 billion and dramatically reduced student debt. In 2013, housing and dining rates at Purdue were the second-most expensive in the Big Ten Conference; today, they are the most affordable. He also has led a multiyear strategy to provide high-quality health care to employees while containing costs. Purdue costs have been held flat compared with the national benchmark, resulting in no employee premium increase for four straight years. And he's helped reduce the university's institutional debt 25% since 2016.
Challenges overcome
Ruhl said navigating the reopening of campus during the pandemic was a significant challenge. "Our success was driven by … from a financial perspective, proactive management of resources [and] reducing spending in many areas to ensure sufficient funding was available to establish and operate entirely new functions on campus to safely reopen," including the Protect Purdue Health Center for testing and contact tracing and converting the animal disease diagnostic laboratory to a certified facility to process COVID-19 tests.

Career path
Ruhl was an attorney at Baker & Daniels during the early 2000s. He then held various finance and policy/strategy roles in then-Gov. Mitch Daniels' administration, including director of the State Budget Agency and director of the Indiana Office of Management and Budget. From 2012 to 2017, he held executive leadership roles at Ivy Tech Community College, including chief financial officer and treasurer. In 2017, he joined Purdue. He's been in his current position since 2020.
If people only understood …
"The importance of aligning scarce resources to strategic priorities inevitably leads to a lot of no's in the role, but when you present a data-driven business case with a clear return on investment … in my experience, the CFO will be your biggest advocate."•
Check out more CFO honorees.
Please enable JavaScript to view this content.