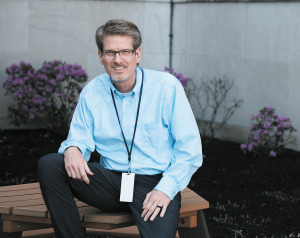 Honoree, Non-Physician
Scott Janke
Psychologist, Richard L. Roudebush VA Medical Center
Scott Janke said he wasn't exactly looking for a career working with veterans when he started a job with Veteran Affairs in 2013.
The clinical psychologist was in a more rural area of Texas at the time and wanted to make a move to San Antonio. That led him to the VA, where he got started doing disability evaluations. From there, his interest turned to treating veterans, which in 2018, led him to Indianapolis.
And now? "I never dreamed that I would love it so much," he said of working at the VA. "I just really feel like I found my home."
Janke works in the substance use disorder recovery program. He's treated dozens of veterans who have entered the Indianapolis Veterans Treatment Court, which provides help to veterans involved in the criminal justice system who are dealing with addiction, mental illnesses, and injuries. The goal is to improve their quality of life by providing structured treatment, close court supervision and supportive interventions.
Judge David Certo, who leads the veteran's court, wrote in a nomination that Janke works tirelessly to advocate for and support his clients. And Janke has "unusual and remarkable" abilities to establish a trusting relationship with veterans who have had a hard time building rapport with past treatment providers, Certo said.
"Veterans uniformly tell me in open court that [Janke] truly listens to them and shows empathy and compassion, especially when they struggle," the nomination reads. "Veterans tell me they feel safe, understood and accepted … and that they always feel better after meeting with him."
Janke told IBJ he became a psychologist after first going to college for ministry. He wanted to help people, but his school didn't offer a social work degree. When the ministry course work didn't align with his interests, Janke designed his own psychology major.
After earning his undergraduate degree, Janke volunteered at Covenant House, an organization serving young homeless people in cities across the country. The two years he spent working with the group in Fort Lauderdale, Florida, and then New York City solidified for him that he wanted to be a psychologist.
Janke said he's not a black-and-white thinker. He understands people's lives and journeys are full of contradictions and inconsistencies. And that's part of what helps him to be a good psychologist. He has been practicing for more than 25 years and noted that many at the VA with that much experience already have moved up to management. But Janke said he's a "die-hard clinician," who really loves "the nitty-gritty frontlines work."
Working with veterans, he said, is deeply rewarding.
"It's a privilege to be let into their world when there's so much toxic shame and guilt that they deal with," he said. "And then for them to trust you and to open up their world and allow you into it in a way that maybe is a little bit scary for them? That's just profoundly important to me."•
Please enable JavaScript to view this content.