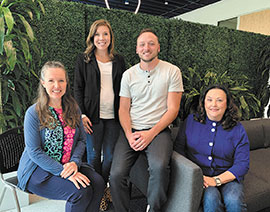 Four years ago, Zotec Partners introduced its employees to the company's Five Pillars of well-being—mental/emotional, physical, community, financial, and learning and development.
The idea and the contents, said Aimee Harvey, executive vice president of people and culture, came largely from listening to team members who said, "Here's what we want and need," then putting together a program that Zotec believes "contributes to the whole person."
"We don't just bring one small piece of ourselves to work," Harvey said. "You have a lot of different aspects of your personality and needs and things that drive your ability to be productive and to be engaged in the work environment. We believe these five pillars encompass all of that. We want people to know that we care about the whole person and not just this one piece who can get a certain piece of productivity done or write a certain level of code."
Zotec, a specialized medical-billing and practice-management-services company, has 1,500 employees across the country and serves 25,000 health care providers. While the five pillars are constantly evolving, Harvey explained what they mean today:
Mental/emotional involves investing "in benefits for mental health for our people. Being able to give people access to affordable mental health care has been important to us and a key benefit driver of ours." Those benefits are also offered to family members, she said.
Physical. Zotec opened a new headquarters last year in Carmel and built a state-of-the-art workout facility for employees. The company offers one-on-one personal training.
Community. Team members this year have so far volunteered 1,400 hours, and the company has matched nearly $30,000 in gifts to not-for-profits. Employees also have the opportunity to come together in teams and participate in giving their time to volunteer activities like Habitat for Humanity and school-supply drives.
Learning and development. "I want Zotec to be known as a place where someone can come and grow a career, where they can learn new skills, learn new roles and capabilities that can help advance them as an individual," Harvey said. That means providing training to meet employees' needs and the business's needs as well.
Financial. Zotec provides ongoing financial education. "It's important to us that they not only have a traditional 401(k) benefit, but they also understand investing, financial planning and budgeting," Harvey said. The company offers monthly education in those areas.
Zotec is a data and analytics company, and it regularly measures the effectiveness of these programs. It has found, so far, through its biannual engagement survey, that most employees are highly engaged.
"We don't just set it and forget it," Harvey said. "We're constantly innovating and evolving to bring the best experience that we can for our people."•
Check out more HR impact award honorees.
Please enable JavaScript to view this content.