Could it be that Cadillac Eldorados made during the Eisenhower administration and Kennedy-era Corvettes are a measurement
of economic recovery?
Ben Bernanke might disagree with such sophomoric economic analysis. But recent results of the Mecum Auction last month in
Indianapolis might be an encouraging sign folks are at least willing to spend more money on non-necessities.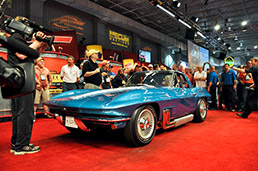 Harley
J. Earl Corvette fetched $925,000. (Photo Courtesy Mecum Auction)
Marengo, Ill.-based Mecum said gross sales at the Indianapolis auction were $41.7 million, compared with the "approaching
$40 million" sales number it reported last year.
Attendance at the auction, at the Indiana State Fairgrounds, doubled to 30,000, from 14,000 in 2009. It's the largest
annual event for Mecum.
Mecum's highest price here was a 1963 Harley J. Earl Corvette, which fetched $925,000. A 1957 Cadillac Eldorado Biarritz
convertible went for $280,000. And a 1963 Pontiac Tempest station wagon "421 Super Duty" inexplicably sold for
$450,000.
Now that's disposable income.
Please enable JavaScript to view this content.