COLUMBUS, Ind.—Tours of Cummins Inc.'s 28-acre technology center here do not include peeks inside two short rows of testing bays, where engineers work on a new generation of diesel engines.

The company is counting on fuel-efficient technology to be a major driver of future growth. While Cummins is keeping its engine prototypes under wraps, the company is open about its strategy of urging environmental regulators to roll out increasingly strict standards. The higher the bar, the more often owners of commercial trucks, as well as other manufacturers, will turn to Cummins for compliant engines and components.

CEO Tim Solso and other trucking industry executives were at the White House in May, when President Obama signed a memo directing the Environmental Protection Agency and Transportation Department to come up with the first standards on greenhouse gas emissions and fuel economy for medium- and heavy-duty trucks, starting with the 2014 model year.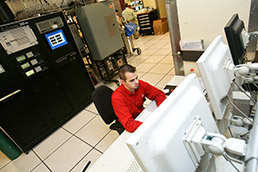 Technician Ryan Cole conducts emission tests on an engine at Cummins' 28-acre technology center in Columbus. The company plans to spend $2.5 billion on research and development over the next five years. (IBJ Photo/ Perry Reichanadter)
The administration's overall goal of a 25-percent increase in fuel economy for big rigs lines up with Cummins' own projection of producing the same fuel savings by 2020. Fuel efficiency is seen as the way to reduce carbon, the main target in cutting greenhouse emissions.

"We and the EPA understand the partnership we have," Chief Technical Officer John Wall said. "That's the approach we've taken over the years, and it's worked for us."
Cummins is the world's leading manufacturer of large diesel engines. It supplies a range of products from heavy trucks and buses to mining equipment and power generators. In North America, it claims more than one-third of the market for heavy truck engines.

Cummins also makes components, such as filtration and fuel systems. But engines are by far the biggest business, accounting for nearly 60 percent of the company's $10.8 billion in 2009 sales.

Eking out efficiency

Unfortunately for commercial truck owners, the industry's environmental achievements over the past decade didn't directly benefit their bottom lines. That's because technology that cut ozone-inducing nitrogen oxide and soot also reversed gains in fuel economy.

Wall looks forward to rolling out products that not only meet EPA standards, but also address the incredible cost of fuel.

"Our customers actually will probably like that," he said jovially. "This is the first time the intentions of the EPA and intentions of our customers align."

Long-haul trucks average just 6.5 miles per gallon, and they burn about 20,000 gallons a year. With diesel prices around $3 per gallon, a 25-percent increase in fuel economy translates to a savings of $15,000.

"That is huge," said Steve Tam, a commercial trucking analyst at ACT Research in Columbus. However, Tam is skeptical engine makers alone will produce that degree of fuel economy soon.

A recent report by the National Academies of Science suggests fleet owners could achieve significant savings just by making box trailers more aerodynamic, he noted.

"Until we see what they actually come up with, it's hard to know how the trucker's going to react," Tam said. "As the program is laid out, it looks intriguing and might get some traction."

Cummins isn't stating its exact fuel-efficiency target for 2014. Wall said the company will clear the EPA's first hurdle by tweaking the existing product line. By 2017, he said, a whole new heavy-duty engine will hit the market, though Cummins isn't giving details on how much fuel economy it will achieve by that date.

Celadon CEO Steve Russell said fuel economy has to improve at least 15 percent to make buying new trucks worthwhile.

"If it was 5 percent, it probably wouldn't be enough to stimulate" new purchases, he said. "If it was 30 percent, it would be wonderful."

Rebounding on regulation

A new office building that Cummins built near its headquarters in Columbus remains about half-empty, a sign of the recession's sudden halt to five years of growth.

The company, which employs 40,000 people worldwide, including 17,000 in the United States, slashed hundreds of manufacturing and white-collar jobs starting in late 2008. In 2009, Cummins' sales slid 25 percent and profit dropped 43 percent, to $428 million.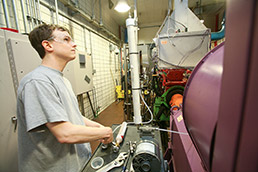 Nathan Scott, an engineer associate, sets up a carbon-emissions test on a Cummins engine. The company is racing to meet the Obama administration's goal of increasing fuel economy for big rigs by 25 percent. (IBJ Photo/ Perry Reichanadter)
Executives told Wall Street analysts to expect average annual sales growth of 13 percent over the next five years. The analysts are buying into the bullish outlook. Two firms have upgraded their ratings to "buy" since March, and the average stock price target is $83.31.

Cummins stock, which now trades around $66 per share, already is up 85 percent from a year ago.

The company said about 30 percent of the anticipated growth would stem from strong demand in India, Brazil and China. About one-quarter would stem from tighter emissions standards around the globe.

Cummins won't say how much of a lift it expects to get from the next wave of U.S. regulations alone, but Citigroup Global Markets analyst Timothy Thein believes it will be significant.

"Cummins is well-positioned to benefit from the new administration's focus on energy/engine efficiency," he said in a research report.

Total research and development spending over the next five years will be $2.5 billion, or 3 percent to 3.5 percent of sales, spokesman Mark Land said. That's on par with the past five years.

Despite its technological ambitions, Cummins is holding down research costs. That's due in part to a shift in engineering strategy. The company has a 250-engineer center in India that leads its front-end analytical work—and eliminates a significant number of costly prototypes, Wall said. Analysis-led design is "the most sophisticated work we do as a company," he said.

Cummins saw how regulation could provide a strategic advantage in 2002, when the EPA unexpectedly moved up a deadline for nitrogen-oxide emissions. While competitors lobbied for more time, Cummins engineers sped up their work.

"It was make or break for us at that time," said Betsy Spratt, a director in the midrange engine development group based in Columbus.

Then in 2007, the company became the first to meet the EPA's 2010 deadline for reducing nitrogen oxide and soot by 90 percent.

Caterpillar later dropped out of the on-highway diesel engine market, leaving Cummins as the only supplier not tied to a specific truck company.

"Cummins is a company that has extreme confidence in their technological capability," said Georgio Rizzoni, a professor of mechanical engineering and director of the Center for Automotive Research at Ohio State University.

'Super truck'

Cummins' next heavy-duty engine is slated to go into a "super truck."

Peterbilt is designing the truck, which is to meet the Obama administration's goal for big rig fuel economy. Cummins received a $54 million Department of Energy matching grant to work on the engine concept.

The technology Cummins is pursuing isn't novel, Wall said. "As is often the case, the problems we deal with are economic, more than technical."

The concept is to direct wasted heat back to the engine via a small steam turbine, 1-1/2 inches in diameter, that's powered on coolant. Other engine makers are also working with so-called "bottoming cycle" technology, so the trick is to come up with the most effective package.

"You can't add too much weight and complexity to the vehicle," Rizzoni explained. "Then you have to make it as cost-effective as possible. This means they have a lot of work to do."

If Cummins rolled out the new fuel-efficient, heavy-duty engine today, Wall said, fleet owners wouldn't find it affordable unless diesel fuel cost $4.50 per gallon.

The government grant, plus anticipation of an EPA rule, is what makes the technology worth developing, Wall said. "It's sort of that regulatory environment that gives stability."

Cummins is also working on diesel-electric hybrid technology for medium-weight trucks and buses, but officials won't divulge details.

Rizzoni, who considers Cummins a top research partner, hinted that the company will have plenty to reveal in the hybrid arena.

"I can assure you, Cummins has their eyes wide open, and they understand the impact of electrification," he said.•