The Indiana World Skating Academy, a fixture in downtown Indianapolis since 1987, appears to have gotten a reprieve from being evicted from the two-ice-rink facility it operates at Pan Am Plaza across the street from the newly expanded convention center.

But the IWSA is still operating under a cloud of uncertainty.

When the Indiana Sports Corp. sold the ice rinks and adjacent plaza to a partnership of Indianapolis-based Kite Realty Group Trust and California-based Coastal Partners LLC in 2008, the IWSA was given a matter of months to get out to make way for redevelopment of the site.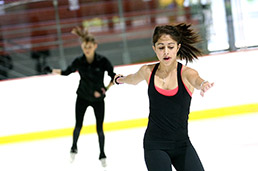 Indianapolis is becoming a skating hotbed, attracting the likes of Australian Tara Amin. (IBJ Photo/ Perry Reichanadter)
The IWSA began working with officials for the city, state and Indiana Ice hockey team to move to the Indiana State Fairgrounds or a new facility elsewhere.

But those plans have stalled, and prospects for redeveloping Pan Am Plaza and the ice rinks downtown have diminished along with the real estate economy, putting the IWSA in an awkward position.

"I was recently told by the building's owners that we could be here another five years," said IWSA Executive Director Pam Robinson. Officials from Kite and Coastal Partners didn't respond to requests for information about the latest plans for the property.

"All the uncertainty makes it difficult to build a stable program here," Robinson said. "The shame of it is, we're really flourishing right now, and we feel we're an asset to this community."

The IWSA has long been considered one of the nation's top ice skating training venues. But this year, led by Russian-born coach Serguei Zaitsev, it's turning into a magnet for some of the world's best skaters and coaches.

In recent months, five international coaches and more than a dozen of the most promising Olympic hopefuls have descended on Indianapolis to learn from and train with Zaitsev, who lives in Fishers.

"We have skaters here from Australia, Russia, Belgium and Spain, and more on the way," Robinson said. "The French team was here before the Olympics."

While the IWSA doesn't gain the attention of the city's larger sports properties, the economic impact is undeniable, Robinson said.

"The Australians alone will account for 180 hotel room nights and more than 900 meals purchased in this city. Then you have transportation, shopping, entertainment and other ancillary spending," she said.

A 2006 Indiana University study concluded the downtown facility has a $26 million annual economic impact on Indianapolis. The not-for-profit IWSA pays $1 annually in rent but barely covers its $1 million annual budget with revenue generated mostly from user fees.

Next month, the IWSA is hosting an international pairs competition at the downtown ice rinks—the city's only year-round ice rinks. The outcome is expected to help set national and world teams and be a springboard for numerous Olympic hopefuls, Robinson said.

"It's such an important competition, we have 72 pairs coming," she said. "Compare that to 50 pairs at last year's nationals."

Zaitsev thinks the IWSA and downtown facility have become an important marketing tool for Indianapolis.

"Indianapolis exists as a city people in the world of skating know about, and it's because of this facility and this organization," Zaitsev said.

Among those here getting the most buzz in skating circles is Shanetta Folle. Considered by many to be the world's No. 1 coach, she has worked with skaters such as 2010 Olympic champion Evan Lysacek.

"Shanetta could go anywhere in the world to train," Zaitsev said. "She came here because of the atmosphere here. The atmosphere of a facility is the hardest thing to build and the easiest thing to destroy."

Part of what makes Indianapolis' downtown facility attractive is its central location and proximity to hotels, Zaitsev said.

"And the people here have done a lot to foster this atmosphere and attract these skaters from across the country and around the world," he said.

In addition to the pairs competition, the IWSA hosts a singles figure skating competition in early August along with 12 hockey tournaments throughout the year. The IWSA also opens its rinks to the public year-round.•