In a photo on the Page Development website, the four company principals stand arm-in-arm, tanned and smiling.

Paul, Tony and Peter Page and Paul Pittman from 2004 to 2007 could barely keep up with demand for $1-million-plus condos along Florida's Gulf Coast. They also were working on downtown Indianapolis' Villagio at Page Pointe, a project that would attract the likes of Indianapolis 500 winner Helio Castroneves.

On June 8, 2010, Tony and Peter Page and Paul Pittman slumped in auditorium chairs on the third floor of the City-County Building, waiting their turn as people around them stood up, one at a time, walked a few steps and raised their right hand.

That's when an attorney for a creditor—in most cases a credit-card issuer trying to recover a couple of thousand bucks—began quizzing: Are you working? How much do you make an hour? Do you have bank accounts that could be tapped to pay us back?

The room was mostly empty by the time the Page principals stood to face the magistrate.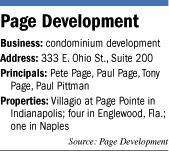 Locally based First Internet Bancorp had won a $1.35 million judgment in March against the four principals and an entity called Page V LLC over a defaulted loan secured by a 100-foot-by-500-foot piece of sand in Englewood, Fla.

The bank first sought to put a freeze on the principals' assets at local banks but found only a handful, all with low balances, including a Paul Pittman account at Regions with $41.02, a Peter Page account at Huntington with $233.84, and a Tony Page account at Chase with a balance of $0.01.

In April, the bank won an order to compel the principals to appear in person to reveal any other assets that could be used to satisfy the debt. All but Paul Page, who also is a local criminal defense attorney, attended the hearing.

The lawsuit—one of several in Indiana and Florida involving Page Development condo projects, principals, condo associations and lenders—is a turnabout for a group that a few years ago could sell out condo buildings on Englewood's Manasota Key with little more than a glossy pamphlet promising "a true tropical paradise."

Trouble in paradise

Page Development sold out the 14-unit Barefoot Beach in Englewood in 2005, unloaded the last of six units at Gulf Breeze in 2007. All but a few of the 12 units in nearby project The Palms and 19 in Boulder Pointe were spoken for as well, at least until the housing market began to turn and buyers forfeited deposits and walked away, said CEO Peter Page, 70, who has been building condo projects in Florida since 1969.

A fifth Englewood project, planned for an undeveloped parcel at 2520 N. Beach Road, was supposed to be called Venetian Sands. The waterfront land served as collateral for a 2005 loan from Indianapolis-based Landmark Savings Bank, which merged with First Internet in 2006. In 2007, the bank agreed to raise the principal balance from $995,000 to $1.35 million.

David Lipstein, a Florida real estate agent who marketed the Venetian Sands condos for Page, said the company landed pre-sale commitments for all 10 units, but Charlotte County stepped in with new density rules allowing only six condos on the site. With fewer units, the deal no longer made sense.

The developers, furious over the intervention, filed suit and still are trying to squeeze a settlement of a "couple million" dollars out of the county, Peter said.

Peter contends the land is worth $3 million, well above the First Internet loan balance, but his company can't find a buyer willing to pay a fair price.

"It'll all be worked out shortly," he vowed. "They just have attorneys who need to keep busy."

The attorney representing the bank, David J. Jurkiewicz of Bose McKinney & Evans, did not return a phone message.

Legal mess

The unpaid loan to First Internet is only the most local of the company's legal troubles.

In Florida, banks including J.P. Morgan Chase and Wachovia are foreclosing on units the Pages own in each of their condo buildings in Englewood.

Page VI LLC, an entity connected to Page Development, is facing a foreclosure suit over a failed 100-unit condo project called Della Rosa in North Naples, Fla. Page VI appears to be in default on a $4.6 million note from Huntington Bank that had been scheduled to mature in late 2009.

Page Development also owes Fifth Third Bank more than $3.5 million for loans on a couple of projects, a debt the bank agreed to forebear until May 2009.

Lenders on individual projects are taking different approaches to recovering loan balances. A lender on Villagio at Page Pointe agreed to reduce a loan balance to allow price cuts on unsold condos, Peter said. Meantime, a lender on a Florida property has been reluctant to accept what it sees as low-ball offers for unsold units.

Lipstein, the Florida broker, said the Pages have tried to maintain prices to protect early buyers while "other developers had a knee-jerk reaction to just dump everything."

But many buyers of Page condos aren't happy, either, and not just because they are so far under water.

The company has failed to pay its share of condominium association dues for the unsold Boulder Pointe units or the ones owned by Page friends and family members, said Ronald Jensen, who paid more than $1 million in 2007 for his 3,000-square-foot condo and has joined with three other residents in a lawsuit against the Pages.

Jensen has another complaint that will sound familiar to residents of Broad Ripple's Spirit Lake condo community, also a Page development.

"I have a dispute about crap construction—windows leak, tile in bathrooms is mismatched, junky air-conditioning units," said Jensen, who is less than hopeful about a satisfactory resolution. "We're just one of a bunch of people waiting around trying to get a piece off a carcass—that's probably what they are at this point."

What's left

Peter, who has seen booms and busts but never one as bad as this, said he's not giving up hope for a housing recovery.

Page Development has sold four Villagio condos in the last two months and leased another, leaving 15 remaining in the 64-unit building. The company was able to sell land for a proposed development in Broad Ripple along the Monon Trail that never materialized.

The real problem is the banks, Peter said. They aren't lending to buyers, and they're squeezing developers by trying to sell properties at fire-sale prices.

"They're stealing properties; it's unbelievable," he said.

At that Tuesday morning hearing, Peter, his son Tony, and his nephew Paul Pittman gathered around Magistrate Caryl Forsythe Dill.

Attorneys for the Pages and First Internet had huddled in the hallway beforehand, so there was no cross-examination under oath for the Page principals. Their attorney, David R. Krebs of Hostetler & Kowalik PC, simply explained they were trying to work things out with the bank but also pulling together paperwork for a possible bankruptcy filing.

It wasn't just a negotiating tactic, Peter said a few days later.

"There's always that possibility that one or two of us might just file and start over," he said.•