IBJ.COM EXTRA
For a list of the 100 largest Indiana companies,
click here.
Privately held Indiana companies offering vital products and services fared better in 2009 than companies that relied on consumers' spending discretionary income.

Twenty-nine of the top 50 private companies saw revenue rise, and most of the winners dealt in such basics as health care.

The largest private company in the state, Evansville-based Berry Plastics Corp., stayed on top because it continued selling plastic bottles and other things made of the ordinary material. Its 2009 revenue hit $4.1 billion, up from $3.6 billion in 2008.

"We're thankful that we make products that people use every day," said Jim Kratochvil, chief financial officer for Berry, which employs 2,126 throughout Indiana, including 1,773 at the Evansville plant. He added that Berry responded to the weak economy—and price increases in oil and natural gas—with some belt tightening, including cutbacks in overhead costs like travel, BlackBerry and cell phone usage, and some labor reductions.

"We continue to make acquisitions in the face of a tough economy," said Kratochvil, noting that Berry has added about 30 companies since 1990, and hasn't had a year of declining revenue or earnings in that stretch. "We've managed through a difficult economic cycle."

Other companies near the top of the list clung to businesses and consumers seeking basics.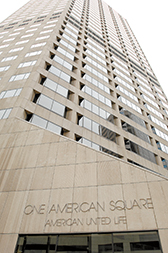 One America (IBJ File Photo)
Indianapolis-based OneAmerica Cos. saw revenue rise to $1.2 billion from $1.1 billion in 2008, as consumers and financial representatives turned to secure investments like life insurance and fixed annuities for retirement, as well as long-term-care policies.

"By nearly every measure, we've performed better in 2009 than in any time in our 132-year history," said Dayton H. Molendorp, OneAmerica's president and CEO. "We had the right product at the right time."

Health care proved to be a safe haven last year, too.

Joint and hip replacement needs of an aging population put Biomet Inc., No. 2 on the list, in an enviable financial position. The Warsaw-based maker of orthopedic implants posted 2009 revenue of $2.5 billion, up from $2.4 billion the previous year.

"So many of the patients who are candidates for our products are insured through Medicare," Biomet spokesman Bill Kolter said in an e-mail. For example, 55 percent to 60 percent of total joint replacements are for Medicare patients.

That, combined with patients ages 55 to 64, who are more likely to have private insurance coverage than younger people, helps explain why Biomet's revenue was stable despite a shaky economy.

"The demographics and prevalence of bone and joint disorders continue to drive overall positive growth for our products, even in difficult economic times," Kolter said.

Cook Group Inc. in Bloomington, which makes stents, catheters and other medical devices, also was somewhat insulated from the recession, with revenue of $1.6 million ticking up from the $1.5 million in 2008.

Cook weathered the storm because people still needed surgery, said David J. McCarty, global director of public relations for Cook Medical.

"If you need a procedure that involves a Cook medical device, you're a sick person and your doctor is saying, 'You need to have this done,'" McCarty said. "It's not really an elective situation like it might be with a new car or a new house."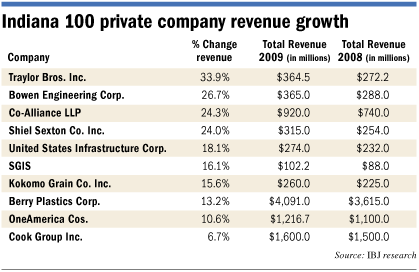 Cook also benefited from expanding its Asia-Pacific market.

Hardware and lumber are the bread and butter of Fort Wayne-based Do It Best Corp., which saw 2009 revenue slip to $2.5 billion from $2.7 billion in 2008. While many consumers are still undertaking home improvement and repair projects, uncertainty about the economy may be giving others pause.

Bob Taylor, president and CEO of the retailer, points to continuing high unemployment as one reason for his company's revenue decline.

"Individuals who currently have a job are feeling a bit more secure in their employment and are beginning to spend," he said in an e-mail, adding that in 2010 the company "is beginning to move in a more positive direction," despite rising costs of lumber.

The petroleum business was a mixed bag. Indianapolis-based CountryMark Cooperative Inc. revenue plummeted to $863 million from $1.3 billion along with the quantity and prices of the diesel fuel it sold farmers and other customers.

Another farm co-operative, Avon-based Co-Alliance LLP, ratcheted revenue up to $920 million from $740 million—mainly because it sold seed and livestock feed at higher prices. Co-Alliance also supplies fuel to IndyGo, the public transportation system in Indianapolis.

Another big petro seller, Swifty Oil Co. Inc. in Seymour, saw revenue decline to $555 million from $764 million as gas prices fell at its convenience stores.

Pity companies that rely on buyers who take action only when they feellike it.

Jayco Corp., a camper and trailer maker in the northern Indiana city of Middlebury, took a shellacking as the recession and high fuel prices in 2008 prompted consumers to think twice before splurging on the fuel-guzzling vehicles. And Jayco wasn't hit only by reluctant consumers. Businesses cut back on unnecessary purchases, too.

Revenue last year fell to $420 million from $680 million in 2008.

One of the largest companies on the list, Federal Home Loan Bank of Indianapolis, was clobbered by the wipeout in the mortgage-based securities market. Revenue at No. 8 Federal Home Loan Bank went into free fall, to $1.1 billion from $2.1 billion in 2008.•