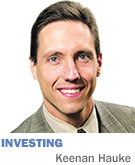 As hard as I try to ignore headlines, conventional wisdom and pop opinion, I will tell you right
now that it is difficult to see a rising stock market in the midst of the worst news climate we've seen in years.
Fox News had a little picture with the planet Earth sobbing and a caption underneath that read, "Is the world broke?"
Sure feels like it is. Despite everything we see around us, I have to stick to the facts and I have to trade based on what
those facts are telling me. And the facts say this bull market isn't over, and it won't be until she sings.
Even before the treacherous month of May kicked in, with the now famous flash crash that has everyone convinced capitalism
is dead, I was saying that any near-term top was most likely not going to be the end. The reasons are simple; as the market
hit a new rally high April 23, every major intermediate and longer-term indicator also hit a new high. That is not how major
tops are created. They are built through a series of higher highs in the market with lower highs in the indicators.
After a few months, or more, of this type of action, you can expect a major stock market top. So, by early May I saw selling
that hadn't been seen for quite a while, but I still thought at least one more run to the upside could happen. Then,
when May flipped into June, we had a few more reasons to remain optimistic about further stock market gains. And as the facts
came in that supported a bullish mind-set, the headlines could not have been in greater disagreement.
Since the Standard & Poor's 500 was created in 1926, there have been only nine occurrences of the month falling
more than 5 percent. This past May, the market dropped more than 8 percent. In other words, we witnessed a rare event. The
other nine times had an interesting outcome, however. Over the next three months, the market averaged a 12-percent gain from
June through the end of August. It went up seven of the nine times, and the two negative periods averaged only a 2-percent
loss.
Well, this time is different, right? We have Greece, Spain, Portugal, Denmark and Finland about to go bust. This time, we
have the U.S. government looking like it is going to stiff the world on all the money we owe them. This time, the Gulf oil
spill is going to cover our oceans and choke off all life as we know it.
OK, if you want to focus on the negative headlines, that's fine with me, but keep in mind that some news companies
are not in the business of reporting the news. Focus on the facts.
Another fact emerged during May. People became way too bearish. Surveys and market action both suggested a growing fear that
became almost everyone's opinion. Bloomberg did a survey showing that almost 75 percent of the investors they talked
to thought Greece was going to declare bankruptcy in the near term. Greece may end up in debtors' prison, but not in
the next three months.
Along the same survey line, all numbers showed bears above bulls as of last week. Ain't no way that many advisers are
going to be that quick to pick a major stock market top. It usually takes months, not five weeks, for that group to become
so bearish. It usually pays to fade their opinion.
And wouldn't you know it? Here we are a few weeks into June and the market is up. Now, we may not be out of the woods
yet. Volume has been a little soft on the rally, and after such a brutal bout of selling, a retest or two would not be unusual.
I would rule out a complete thrashing from here, though, and I expect higher prices over coming months.•
__________
Hauke is the CEO of Samex Capital Advisors, a locally based money manager. His column appears every other week. Views
expressed here are the writer's. Hauke can be reached at 203-3365 or at keenan@samexcapital.com.
Please enable JavaScript to view this content.