The results of Scott Jones' experiment in junior entrepreneurship are in. The "Lemonade Day" event he helped
bring to central Indiana May 2 raised $811,672 here via the sale of 545,207 glasses of lemonade.
Of that total, $266,637 was donated to charities chosen by participating kids.
 
Launched in Houston three years ago, the annual Lemonade Day aims to educate children from pre-kindergarten through high
school about how to start, own and operate their own business. Jones, the co-founder of mobile search engine tool ChaCha,
spearheaded efforts to set up 5,000 lemonade stands here.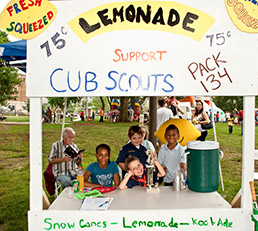 Cub Scout Pack 134 won Lemonade Day's best business title with $400 in profit. (Photo courtesy Lemonade Day Indianapolis)
For a $4 startup fee sponsored by their parents or guardians, the kids received bright yellow backpacks containing two workbooks:
one for children, the other for adults. The books teach skills such as setting goals, business planning, finding an investor,
site selection, advertising, building a stand, purchasing, making lemonade, setting up, running the business, accounting and
giving back.
Ultimately, more than 7,400 Hoosier kids signed up for the event. Their stands had an average gross revenue of $109 thanks
to 73 glasses of lemonade sold over an average 3.71 hours the stands were doing business.
Please enable JavaScript to view this content.