To spearhead a once-in-a-generation overhaul of local government's antiquated back-office computer system, Mayor Greg Ballard has chosen an unprofitable software firm that as recently as March 31 warned investors that debt-refinancing issues could force it out of business.

Administration officials say they aren't worried about New York-based Zanett Inc.'s ability to fulfill its obligations under its $7.5 million contract. They say the firm's low price, its substantial local footprint and its use of minority subcontractors set it apart from the two other finalists, California-based Oracle Consulting and Colorado-based CIBER Inc.

If the project stays on track, Ballard will pay $3.5 million to $4.6 million less than he would have with Oracle or CIBER. But if it derails, Indianapolis would join Philadelphia, San Diego and other cities where spiraling cost overruns and years of delays followed enterprise-resource planning, or ERP, software conversions.

Publicly traded Zanett has substantial consulting experience, but also a checkered financial history. It posted a loss of $2.3 million last year on $41.4 million in revenue, and reported an additional $381,000 loss in the first quarter.

Dragging down results was heavy debt, including a $7.1 million note purchased by an investment firm in February. Zanett also is trying to find a new lender to replace Bank of America Corp. on a $4 million credit line that has matured.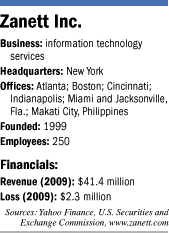 Because of the losses, a working capital deficit, the expired credit line "and our limited access to additional borrowings under these financing arrangements, there is substantial doubt about our ability to continue as a going concern," Zanett's March 31 quarterly report said.

In an interview with IBJ, Zanett President Dennis Harkins downplayed the possibility that debt problems could drag down his company. He said Bank of America is trying to move Zanett to another lender because the company's borrowings aren't large enough to meet the big bank's focus on clients with loans over $25 million.

"We're not in [Bank of America's] sweet spot," Harkins said. "They said you need to find a new partner, and we'll work with you to find a new partner."

Glen Baker, chief information officer for Indianapolis and Marion County, said Zanett's scores for financial stability were lower than those earned for other criteria, such as price. But he said the company ultimately answered all the city's concerns.

"We did raise that issue of Zanett's debt. We had significant discussion internally about that," Baker said. "When we asked them to come in for their long day on site, that was a topic of focus. Coming out of those meetings and following up, we became comfortable that they were going to be able to manage those issues."

Outdated systems

Since the 1970s, Indianapolis and Marion County have used the same aging patchwork of 1,100 mainframe-based systems for functions such as accounting, human-resource administration, purchasing, payroll and grants management. Before Ballard took office, previous mayors knew the system was like an old car whose odometer has flipped repeatedly—slow and costly to maintain, if you can even find the parts.

But they balked at the price of an upgrade and the implications of a botched job. Ballard has embraced planning software for its upside. If implemented properly, it will mean less paper pushing and far fewer errors and will reveal opportunities to eliminate waste. Ballard began accepting system proposals last fall after six months of study. He eventually settled on Oracle's PeopleSoft software after considering competing products from SAP and Microsoft.

PeopleSoft is a mature software package widely used by governments across the country. What's tricky is installing it with any necessary custom adjustments, converting decades of legacy agency data, and training entrenched bureaucrats to use the new system.

"They're not going to do their jobs anywhere near like they did them before," said Anthony Gerth, an associate professor at Indiana University's Kelley School of Business. Before IU hired Gerth, he spent 20 years leading planning software projects for Deloitte and Infosys.

Ballard has pegged the upgrade at $16 million over the next three years, plus another $1.5 million annually thereafter for maintenance. Indianapolis will pay Oracle $3.6 million for a three-year PeopleSoft license. Another $4.9 million will go for new hardware, hosting and internal staffing.

Planning the software installation is the most expensive—and risky—part of the project. Nine firms bid on the consulting job. The administration's selection of PeopleSoft left only five of those firms in the running, based on their specialization in that specific software. Baker noted the review process required approvals from the city-county IT board and multiple local officials, including the city controller, county auditor, county treasurer and presiding court judge.

Although based in New York, Zanett has its largest office in Indianapolis, where about 100 of its 250 employees work. The firm's local roots trace to locally based Onex Corp., which New Jersey-based Inrange Technologies bought in 2001. Zanett bought Inrange in 2004.

Zanett's largest local clients include Indiana state government, which it has assisted with dozens of planning software rollouts, and Indianapolis-based athletic shoe retailer The Finish Line.

"Staying on track of projects and keeping cost in alignment with budget is what we do every day," said Kevin Teder, Zanett senior vice president for Midwest client relations. "We feel we've got the right project management in place, the right experience on team, and the right involvement from the city and oversight from city management."

Scoring bidders

Zanett won the contract thanks to an 87 score on a 100-point evaluation scale, a $7.5 million bid and a three-year software installation plan. A quarter of that total will actually go to Oracle, which bid on the job both as lead and as a Zanett subcontractor.

Another 28 percent, Baker said, will end up with four local minority-owned, women-owned or veteran-owned Zanett subcontractors: Entap Inc., Sondhi Solutions LLC, Creative Solutions Consulting Inc. and Professional Management Enterprises Inc.

"Over half of the effort and dollars spent will be going to partners with Zanett, coupled with the fact that Zanett resources are primarily going to be local resources that live in central Indiana," Baker said. "We believe that exposure to the worst case, such as that Zanett would [dissolve], leaves us with the ability to continue on and recover from any hiccup."

For the same installation job, Oracle Consulting had an 81 score and a $12.1 million bid. Its parent firm last year booked $5.6 billion in profit on $23.3 billion in revenue.

CIBER's score was 74, with a bid just under $11 million. Although it's tiny compared to Oracle, CIBER is far larger than Zanett, with profit of nearly $15 million on $1 billion in revenue last year.

Baker noted that a large difference between the bids can be traced to Zanett's local work force. Its competitors' costs reflected the high price of flying out-of-state consultants to Indianapolis and housing them here.

"Had [Indianapolis] gone with a larger firm like IBM, Accenture or Deloitte, they would have had no problem with stability, but it definitely would have cost more," Gerth said. "I can only view that as a risk decision."

State government has had a good experience with Zanett over the last decade, said Brian Arrowood, Indiana's chief information officer. He said Zanett has been one of a handful of vendors the state has repeatedly hired for PeopleSoft installation and maintenance projects.

"We've been satisfied with them," Arrowood said. "They're quite flexible and can provide a broad set of skills if needed. They've worked in various areas of our implementations, not just the high-level project-type lead areas, but also in the trenches."•