When the directors of WellPoint Inc. picked Angela Braly three years ago as the company's next CEO, they touted her
experience and skills dealing with politicians and government regulators.
It hasn't worked out so well.
WellPoint is now the poster child for health insurer bad behavior—credited in Washington with reviving a dead health
reform bill the company opposed.
That bill includes numerous new restrictions on health insurers, including a key one that could sap more than $850 million
from the company's profits.
Now, with thousands of new regulations being written, Braly has staged a public feud with the president of the United States
and his chief health regulator.
"I don't know who's advising them on the public relations strategy, but it's been a disaster,"
said Bob Laszewski, an insurance consultant in Alexandria, Va. "It's hard to believe retrospectively in her expertise
in public policy."
And the trouble in Washington is by no means WellPoint's only challenge. Braly's tenure leading WellPoint has
been full of storms: an exodus of management talent, high unemployment, byzantine computer systems that caused forecasting
and claims processing snafus, and multiple rounds of job cuts.
The new health law doesn't make things any easier, adding on regulations and restrictions that analysts predict will
hurt WellPoint more than its peers.
"Though the government is not supposed to single out companies for scrutiny, we don't think publicly aggravating
it will help," health care stock analyst Les Funtleyder told his clients.

"The companies in our coverage universe, UnitedHealth Group and Humana, both seem to
be taking a more subtle approach and will likely fare better in the eyes of regulators."
Braly declined to be interviewed for this story. A company spokesman said she preferred to talk about the future, not the
past.
But the past isn't all bad for Braly. Among the big five publicly traded health insurers, WellPoint's stock has
performed second-best since Braly became CEO.
WellPoint's shares have tumbled 33 percent since May 31, 2007—the day before Braly became CEO. But the stock
prices of UnitedHealth Group, Cigna Corp. and Aetna Inc. have fallen even more. Only Humana Inc. has fallen less, 23 percent.
In the same period, the Standard & Poor's 500 Index has fallen 27 percent.
Braly also oversaw a widely praised deal to sell WellPoint's pharmacy benefits unit for a whopping $4.6 billion. She
struck the deal with Express Scripts Inc. in April 2009 at what analysts called the peak time.
WellPoint maintains an internal list, five pages long, of honors the company and its executives have received. It's
routinely recognized as one of the best companies for black and female employees. And Fortune magazine ranks Braly
as the fourth-most-powerful woman in business.
"She's in a real tough position that's really complex and, with health care reform, under attack,"
said Ellen Annala, CEO of the United Way of Central Indiana.
Braly has volunteered with the United Way, getting her hands dirty cleaning up a kids' camp, and has personally donated
$300,000.
"I think she does [her job] with grace, and never wavers from her values and commitments," Annala said.
Bumpy tenure
Braly, a 48-year-old mother of three, was WellPoint's general counsel and chief of public affairs before her
predecessor, Larry Glasscock, named her CEO.
The announcement surprised Wall Street analysts, most of whom had never even heard of Braly before her selection.
Glasscock, however, praised Braly's business acumen and said she shared his strategic vision. He also said Braly's
experience working on public policy issues would be vital for WellPoint.
"The legislative and regulatory framework for the future is going to be incredibly important, and the whole area of
public policy. These are all areas that Angela is incredibly skilled at," Glasscock said when he announced his impending
retirement. "So that was a very important aspect of her selection as my successor."
But WellPoint has stumbled on both the business and the political fronts under Braly's watch.
Annual earnings per share under Glasscock soared from $2.31 in 2002 to $5.56 at the end of 2007. The company was able to
do a string of acquisitions while also growing its existing insurance subsidiaries.
But the opportunities for major acquisitions had dried up by the time Braly took the reins. And the health insurance industry
was entering a downward price cycle in which the costs of medical care grew faster than health insurance premiums.
WellPoint appeared to be chugging along under Braly until March 10, 2008, when the company stunned investors by admitting
it had mispriced its insurance policies because computer problems had hid a late-2007 surge in medical bills.
The computer problems stemmed from botched integrations of the myriad computer systems inherited from acquired companies.
The recession also started to take a toll, with layoffs at WellPoint's lucrative employer customers sapping premium
revenue. And then the fall 2008 meltdown on Wall Street hammered WellPoint's investments.
Profits for the year fell 26 percent, to $4.79 per share. WellPoint's stock price swooned 55 percent.
The party WellPoint workers were used to under Glasscock clearly was over.
Beginning in January 2009, Braly ordered job cuts that totaled 2,400 by the end of the year. The company now employs 40,000
nationwide.
Profits in 2009 fell another 4 percent, excluding the gain from the pharmacy sale. WellPoint's stock price recovered
a bit, but continued to be depressed by investor worries over the impact of health reform.
Still, investors don't blame Braly for all of WellPoint's recent struggles.
"There have been some issues, some of which were outside of her control," said Dave Crossman, senior research
analyst at Kirr Marbach & Co., an investment firm in Columbus, Ind., which owns 100,000 WellPoint shares. "I don't
know that getting rid of Angela would change the numbers from the actuaries."
Political sparring
This year has seen WellPoint's business turn for the better at the same time its political position tanked.
In February, President Obama seized on news reports that WellPoint was raising rates on California customers with individual
insurance policies as much as 39 percent.
He declared outrage during a television interview broadcast right before the Super Bowl. At the time, the election of Massachusetts
Republican Scott Brown to the U.S. Senate appeared to have given Republicans enough votes to bottle up Obama's reform
bill in endless debate.
But WellPoint's rate hikes—which also occurred in Indiana and many other states— gave Democrats the rallying
cry they needed to restart health reform.
Braly was summoned to testify before Congress. She tried to give the legislators a lesson in the real reasons health costs
are rising so fast—price hikes by hospitals and doctors and deteriorating health among the nation's aging population.
But they simply expressed incredulity at WellPoint's timing and executive pay.
"I think that a 39-percent rate increase at a time when people, Americans, are losing their jobs, losing their health
care, is so incredibly audacious, so irresponsible. How much money do you make?" asked Rep. Jan Schakowsky, D-Illinois.
Braly made $13.1 million last year, a 51-percent increase from the year before.
"Well, of course, it makes sense then that you would need a big rate increase," Schakowsky said.
When in April an outside firm found WellPoint had made major math errors in its rate-hike calculations, the company withdrew
the application and fired the actuarial managers in charge.
But it seemed to confirm Washington's worst fears about WellPoint. Obama's health secretary, Kathleen Sebelius,
told state regulators around the country to double-check rate increase requests from WellPoint—but from no other company.
WellPoint officials say they were unfairly singled out by Obama to advance health reform—in the same way he is using
Goldman Sachs to advance financial reform, BP to advance climate reform, and the state of Arizona to advance immigration reform.
"We are being targeted and villainized," Braly explained to investors during an April conference call.
In April, when the Reuters news agency alleged in a story that WellPoint targets breast cancer patients for cancellation
of coverage, Sebelius sent a letter to Braly blasting the practice as "unconscionable." WellPoint called the story
grossly misleading.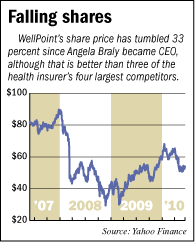 Two weeks later, Obama trumpeted Sebelius' response to the breast cancer report as an example
of his administration's being tough on health insurers. He didn't name WellPoint in that charge, but Braly took
him to task, anyway.
"If we are going to make this law work on behalf of all Americans," Braly wrote in a letter to Obama, "the
attacks on the health insurance industry—a valued industry that provides coverage for more than 200 million Americans—must
end."
Squeezing profits
This public feuding concerns investors and analysts, particularly with key decisions about the new health law on
the line.
The new health law provides opportunities and pitfalls for WellPoint. It will create new health insurance exchanges by 2014
that will replace the current individual and small-business marketplaces, where WellPoint is stronger than its competitors.
WellPoint's brand should be strong in the exchanges, but it likely will face greater competition. The exchanges could
bring health insurers 16 million new customers, who will receive government subsidies to offset the cost of insurance.
The new law also requires WellPoint and other insurers to spend at least 80 percent of premiums on medical bills—not
on overhead or profits—for its individual and small-business policies.
Larger policies have an even higher threshold, 85 percent. If WellPoint doesn't meet the thresholds, it must return
premiums to customers.
WellPoint and its peers are lobbying regulators to get rules for the new law to fall their way.
Sarah James, a health insurance analyst at Wedbush Securities, estimates those provisions alone could sap WellPoint's
pre-tax profits as much as 20 percent—or $850 million—the most in the industry. But if a few decisions go WellPoint's
way, it might suffer only a $50 million hit.
Scott Fidel, a health insurance analyst at Deutsch Bank Securities, while not naming Braly specifically, said he wants to
see her team do a better job of doing what she was hired to do: managing relationships with public officials.
"We continue to view the increased efforts of government officials to play a primary role in determining industry rate
increases as the single most significant risk to the managed care stocks," he wrote June 14 to his clients. Referring
to WellPoint by its ticker symbol, he added, "Better management of political risk needs to be an utmost priority for
WLP's management team ahead of the elections."•
Please enable JavaScript to view this content.