Even as other companies reevaluate their need for office space in the era of remote work, Indianapolis-based tech firm Greenlight Guru has doubled down on its physical presence.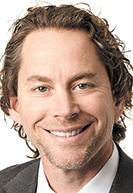 On Thursday, the fast-growing software company held a grand opening to celebrate its new 24,000-square-foot offices at 601 S. Meridian St. in the Union Campus. That's double the space Greenlight Guru had at its previous offices, which were in an adjacent Union Campus building at 525 S. Meridian.
Greenlight Guru occupies two floors of the new building, known as the 601 Building.
Greenlight Guru, which was founded in 2013 and makes quality management software for the medical device industry, said it made the move because its old offices had become too small to contain its growing workforce. The company has 160 employees, about 30% of whom live outside of Indiana and are fully remote. In comparison, the company had only 31 employees in early 2018.
Having remote employees is something new for Greenlight Guru—the company had only a small handful of remote workers before the pandemic.
CEO David DeRam said Greenlight Guru is committed to maintaining a physical office because of the benefits it sees in face-to-face experiences. "There's just so much power that you have in collaboration," he told IBJ at Thursday's event.
The company intends to bring its entire workforce together at least once or twice a year, and individual departments may bring their remote workers to Indianapolis more often than that for in-person meetings or other activities.
Including its remote workforce, Greenlight Guru has employees living in 23 different states.
DeRam said the company's rapid growth trajectory has helped the company attract new employees, even from tech hot spots like Raleigh, North Carolina; Denver; and Austin, Texas.
Greenlight Guru is privately held and does not disclose revenue figures, but DeRam said the company has achieved near 100% year-over-year revenue growth even as it scales up.
He also said the company has entered the ranks of the "soonicorns." Soonicorns are companies whose growth puts them track to join the ranks of the unicorns—startups with valuations of at least $1 billion.
The company landed a massive $120 million investment in June from JMI Equity, an investment firm with offices in Baltimore and San Diego.
Having both an in-person and remote workforce, though, did make it trickier to plan how much space Greenlight Guru should have in its new office. It needs enough space for its local employees, most of whom are still working remotely for at least part of the week. It also needs space for the remote employees who will still be coming to Indianapolis for in-person work periodically.
Based on the company's current growth trajectory, DeRam said the new offices should suit Greenlight Guru's space needs for the next three to five years. It's hard to be more precise, he said, because that partly depends on how many future employees will be local and how many will be remote.
Regardless, DeRam said, Greenlight Guru is committed to maintaining a physical office and has no interest in going all-remote.
"That [going totally remote] might be a riskier bet than people think," DeRam said. "If you're going to build a great culture, it's hard to do it all remote."
Please enable JavaScript to view this content.