GREENFIELD—A King Air turbo-prop whisks a group of four people back to Frederick, Md., while a Learjet 45 sits on the
ramp, waiting for its passengers to return to Mount Comfort Airport.
For the six general aviation airports that ring Indianapolis, landing business jets like these is like finding silver dollars
in a bucket of pennies. Though relatively few compared with the number of piston-engine planes, jets consume three times as
much fuel at the area's small airports.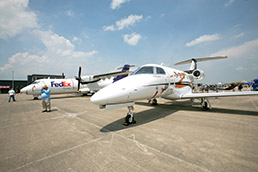 The Indianapolis Airport Authority wants to change the name of Mount Comfort Airport in time for the 2012 Super Bowl to
raise its profile among jet pilots. (IBJ Photo/ Perry Reichanadter)
"The measure of any of the airports is, 'How much jet fuel do you sell?'" said Pat Robinson, a partner
in Indy Jet Holdings, the service provider at Mount Comfort.
The Hancock County airport, which sold 282,455 gallons of jet fuel last year, sees more jet traffic than any of the Indianapolis
Airport Authority's other three reliever airports. Robinson figures Mount Comfort could net even more business jets
because of its runway length and location within 20 miles of downtown Indianapolis, though he doesn't have a target
in mind.

Bob
Palmer's company, Indy Jet Holdings, provides services at Mount Comfort Airport.
The Indianapolis Airport Authority concurs, and will ask the Federal Aviation Administration to change the name to Indianapolis
Regional Airport. Indy Jet's partners think a new name will signal to out-of-town pilots that Mount Comfort is convenient
to the city and offers the level of service that private-jet travelers expect.
If the FAA approves the name change, the airport's moniker would be similar to Indianapolis Metropolitan Airport in
Fishers, another IAA reliever, and Indianapolis Executive Airport near Zionsville, which belongs to Hamilton County.
The name change could take 18 months to two years, but Indy Jet's partners hope it happens in time for the 2012 Super
Bowl. In the meantime, they're stepping up service.
"Mount Comfort has never really been marketed or pushed as a corporate-jet type of airport," said Bob Palmer,
managing partner of Indy Jet Holdings.
Palmer, regional vice president at FedEx, and a third partner, whom Palmer would not name, formed Indy Jet Holdings in 2009.
The new partnership became the operator at Mount Comfort in June 2009. The partnership assumed a lease that runs through 2030
from Robinson's company, Indy Aero.
Robinson, who has operated at Mount Comfort since 2000, said the number of jets based there has grown from six to 10 under
the new partnership. Jet-fuel sales are rising, too, though it's not clear whether that's thanks to marketing
or the slowly improving economy.
Jet fuel sales in January through March totaled 78,200 gallons, up 49 percent from the same period in 2009. Last year, jet
fuel sales dropped 19 percent. Eagle Creek Air Park, an IAA reliever that runs neck-and-neck with Mount Comfort on jet business,
saw a similar decline. (Eagle Creek Aviation Services did not return a phone message seeking comment.)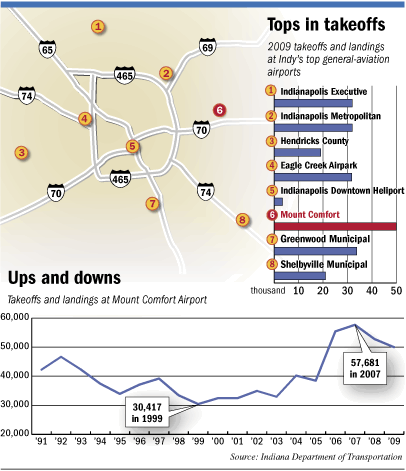 Fuel sales also benefit the airport authority, which receives 6 cents
per gallon, according to terms of the lease.
Palmer said one of his first moves was to hire a "customer experience" manager with a background in the hospitality
trade.
"It's like any service industry," he said. Later this year, he's planning a face-lift for the facility.
Mount Comfort already has the basics covered with an instrument landing system and two runways, including a 5,500-footer.
The main runway is long enough to accommodate large business jets, such as a Global Express carrying 18 passengers.
The most important factor for pilots, however, is location, and Mount Comfort Airport sits 18 miles from downtown. Palmer,
who keeps a small plane there, said that could come into play for other events besides the Super Bowl.
"The thing about Indianapolis is, we've got so many fun events that bring people into downtown," he said.
Mount Comfort's main competitor outside the IAA system is Indianapolis Executive, which also has a 5,500-foot runway
and markets heavily to private jet pilots. Manager Dan Montgomery, owner of Montgomery Aviation, said his approach has been
similar to what Indy Jet's partners have in mind.
Montgomery, who struck a lease with the Hamilton County Airport Authority in 2001, had the name of the airport changed from
Terry Airport. He also upgraded the terminal from what he described as a "shack." Three years ago, he installed
a large canopy over the ramp, which keeps jets and their passengers out of the rain.
"Our slogan is, 'We've got you covered,'" he said.
Montgomery is aware of the changes afoot at Mount Comfort, but he said location will ultimately determine where most pilots
choose to land. He expects Indianapolis Executive to continue capturing most of the business jets with passengers bound for
the U.S. 31 corridor on the north side.
The recession hit general aviation hard, and corporate jet travel is expected to lead the recovery, said David NewMyer, chairman
of the Department of Aviation Management at Southern Illinois University in Carbondale.
There are roughly 220,000 general aviation planes in the country, but only 10,000, or 4.5 percent, are jet-equipped, NewMyer
noted. The number of jets will double over the next 20 years, he said. Meanwhile, the larger population of general aviation
pilots, who fly piston-engine planes, is aging and spends less time in the sky.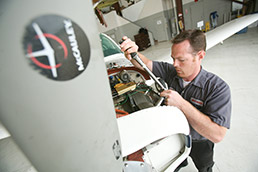 Joseph Wood, an aircraft inspector, gives an airplane its yearly inspection at Mount Comfort Airport. (IBJ Photo/
Perry Reichanadter)
That trend bodes well for a well-equipped airport like Mount Comfort, NewMyer said.
"Those that can serve the turbine aircraft, they're the ones that are going to do well in the next 10 years or
so," he said. "Those that have shorter runways simply will not."
Runway expansion in a neighboring county or new jet technology could also knock Mount Comfort out of its top spot.
Retired Indiana University economist Morton Marcus predicted that the FAA will approve more runway extensions.
"As with most organizations with an engineering point of view, they always want to go with the maximum design condition,"
Marcus said. "Since the federal government pays 90 percent of these expansions, the burden on the local government is
not very much."
The smallest airports also could see more jet traffic, if the heavily touted "very light jet" industry ever takes
off. The advantage of the lightweight and super-fast airplanes is supposed to be that they require less landing and takeoff
space, giving them access to all kinds of locations.
Marcus, who has studied the economic impact of the new generation of jets, thinks they will become a reality once manufacturers
can gain access to capital.•
Please enable JavaScript to view this content.