Some visitors to Conner Prairie feel queasy about riding in the history park's helium-filled balloon—and it isn't for fear of heights.

BP's logo is stamped all the way around the balloon's girth.

"They regret that it reminds them of what's going on in the Gulf," CEO Ellen Rosenthal said.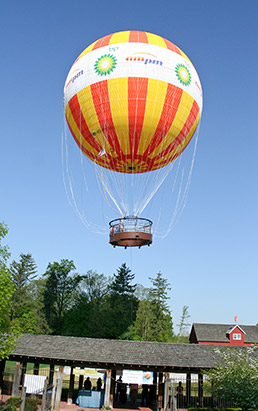 Conner Prairie's 1859 Balloon Voyage, launched last spring, is sponsored by Ricker Oil Co., a BP franchisee based in Anderson that owns 50 gas stations. (Photo courtesy Conner Prairie)
As oil continues to spill out of BP's broken well in the Gulf of Mexico, people are directing their dismay toward balloon pilots at Conner Prairie or, more often, cashiers at Anderson-based Ricker Oil Co.'s BP-branded gas stations.

Executives at both organizations would like to shake off BP's villainous image. Rosenthal said she's contemplating a marketing response. Jay Ricker, owner of the BP franchise, said he might post more signs explaining the stations are locally owned and operated. The company also plans to donate $1,000 to the not-for-profit Greater Good and give $1 for every person who joins its Facebook page.

"It's dragging on longer than I thought it would," Ricker said.
Ricker Oil became the largest gas-station chain based in Indiana when it bought all 32 of BP's Indianapolis stores in 2008. The company has 650 employees and operates a total of 50 stations along the I-69 corridor to Fort Wayne, Ricker said.

Last spring, Ricker became the title sponsor of Conner Prairie's $2.2 million exhibit, "1859 Balloon Voyage." At the time, Rosenthal noted, her staff researched BP's reputation and found that the Sierra Club had ranked it at the "top of the barrel" among oil companies. The London-based giant scored high for its stance on global warming and environmental initiatives.

Since the April 20 oil rig explosion that killed 11 people and continues to wreak havoc in the Gulf, the Sierra Club gave BP a "dishonorable mention."

"Conner Prairie has made such an effort to be environmentally conscious in the last year, it just pains us," Rosenthal said. She added, however, that she has no regrets about the relationship with Ricker Oil, "an incredibly family-oriented, community-oriented company."

Boycotts on BP stations are taking their toll, Ricker said. In the past three weeks, sales at his stations are off 5 percent to 7 percent.

That's a bigger blow than the stations suffered during the recession, which cut into convenience store sales an average of 3 percent, added Ricker, who is head of the 150,000-member National Association of Convenience Stores. His company also delivers gas to other retailers.

"Customers are rightly upset with BP," Ricker said. He added that boycotts won't necessarily hurt BP because the company can still sell unbranded gasoline.


Ricker
"If a customer boycotts us, there's a good chance they could be buying BP and not even know it," he said.

BP's disaster has Rosenthal thinking about the potential pitfalls of any corporate sponsorship.

"It's a difficult landscape to navigate," she said. "You could work with a local grocery store and find they're carrying contaminated lettuce or beef."

Forming partnerships

Nature Conservancy is one organization that's worked closely with BP, and its leaders say they won't think twice about such relationships in the future.

"We always think it's better to be at that table, in partnership with corporations, rather than an adversarial relationship," said Mary McConnell, director of the Nature Conservancy in Indiana.

As an example, McConnell said the Nature Conservancy's scientists would try to provide advice on where to locate a wind farm, keeping it out of a critical path for migratory birds. That's an apt scenario for Indiana, which attracted the country's largest wind farm, Fowler Ridge, to Benton County northwest of Lafayette. Fowler Ridge is owned by BP and Dominion.

The Nature Conservancy's Washington, D.C., headquarters has accepted nearly $10 million in cash and land donations from BP and affiliated companies, The Washington Post reported in May.

None of those donations was for projects in Indiana, McConnell said. The local chapter does work with other energy-related companies, especially electric utilities. NIPSCO, Duke Energy, Vectren and Indianapolis Power and Light have all made significant donations.

Political fallout

The expansion of BP's Whiting refinery sparked its own environmental controversy in 2007. The Indiana Department of Environmental Management granted permits that would have increased the company's discharges of ammonia and silt into Lake Michigan.

After an outcry from Chicago politicians, including then-U.S. Sen. Barack Obama, and Great Lakes environmental watchdogs, BP agreed to keep its discharges under the limits of its prior permit.

Gov. Mitch Daniels defended the project because it creates jobs. He also commissioned an independent review of the permitting process, which found that regulators were hobbled by conflicts within the state's own laws.

Indiana began updating its regulations, but the process still hasn't concluded, said Lyman Welch, water quality program director for the Great Lakes Alliance.

Daniels, meanwhile, is watching his political stock rise. Indiana Republicans and some national pundits want him to run for president in 2012. Would his former role as BP defender haunt him?

Former state Republican Chairman Mike McDaniel doesn't think so, but he has a ready defense. BP's reason for expanding the Whiting refinery was to take on more crude from Canada, he said.

"People aren't going to hold against a governor a project that began in 2008 that means we're going to be less dependent on foreign oil."•