City officials are exploring redevelopment options for the former Central State Hospital—including creating a 150-acre
sports complex that could include facilities for everything from soccer and baseball to tennis and ice skating.
In preliminary discussions, Mayor Greg Ballard's administration envisions the venue serving recreational athletes as
well as elite athletes who would be housed on the grounds while training for national or international competitions.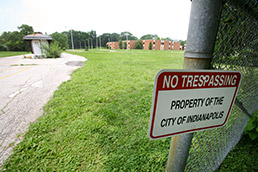 The
150 acres that formerly housed Central State Hospital was sold to the city in 2004. (IBJ Photo/ Perry Reichanadter)
"We've done a lot of research on that site and we've discussed a lot of things with neighbors out there,"
said Paul Smith, real estate manager for IndyParks, the city's parks department. "One idea that's been discussed
has been a sports complex, but it's just an idea right now."
City officials have taken the step of putting together preliminary drawings. And people close to the city's sports
movement say Ballard has indicated he likes the idea.
It's not clear how much such a venue would cost, though sports business experts say it easily could surpass $10 million—a
big obstacle at a time the economy is sputtering and property-tax caps are squeezing city revenue.
"Right now, there's just no money for things like this," Smith said. "The economy has not been a
friend to what's going on."
Such a complex could help resolve multiple sports-facility challenges facing the city.
It could replace the Indianapolis Tennis Center, which is slated for demolition on the southeastern edge of the IUPUI campus
in August. It also could house the Indiana World Skating Academy, which expects to get evicted from Pan Am Plaza when its
owners redevelop that site.
The site also could include facilities for baseball, soccer, track and field, and other sports, and offer housing, dining
and training.
"City officials have talked with people at the Indiana World Skating Academy and those in the tennis, baseball and
softball communities," said Milt Thompson, president of Grand Slam Cos., a locally based sports marketing firm. "Right
now, IndyParks is looking for partnerships. They're talking about having all sorts of multi-sports activities.
"I think there's merit to looking at this site for development as some kind of sports complex," he added.
"It's better than leaving it vacant."
Central State closed in 1994, and the city bought it a decade later. In 2007, a group of investors, including Mike Higbee,
Indianapolis' former director of metropolitan development, made headway on plans to redevelop the property for residential
and commercial use. But they stalled along with the economy.
The site on Washington Street 30 blocks west of downtown now is home to the Indianapolis Metropolitan Police Department horse
patrol, a Red Cross warehouse and Max Bahr Park, which occupies the northeastern corner.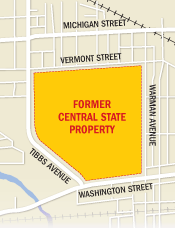 The property also is dotted with crumbling buildings that look as outdated as the hospital's
original moniker—State Lunatic Asylum, which opened in 1848.
If the site is developed for sports purposes, Thompson hopes there will be ample opportunity for residents of blighted neighborhoods
nearby to use the facilities.
"We have all these Taj Mahals built for professional athletes, but there are pockets of the city that are underserved,"
Thompson said. "That was the vision for the original sports movement in Indianapolis—to have opportunities for
our young people and local families. I've been encouraged by what I've heard."
Pam Robinson, the Indiana World Skating Academy's director, said creating a facility that brings in money from grass-roots
user fees to support national-class athletes is a concept that's worked elsewhere.
"They have to determine the goal and the mission to determine the economics," Robinson said. "Creating
a development that integrates all sports is a very favorable concept because of the ability to maximize the use of the facilities
to meet the different sports' common needs."
Given Indiana's central location, Robinson thinks Indianapolis could become a regional or national training center,
drawing lots of favorable attention to the city in the process.
Robinson said city officials briefed her on the idea for Central State last year and have taken her and Thompson on a site
inspection.
But Robinson isn't convinced the Central State site is ideal for the IWSA, which also is looking at the Indiana State
Fairgrounds as a potential home for its facility.
David Morton, committee chairman for the U.S. Tennis Association Midwest Section, thinks the site might be a little too far
from downtown to be ideal for the tennis center relocation. The USTA houses its Midwest Regional Training Center at the Indianapolis
Tennis Center.
But Morton, president of locally based Sunrise Sports Group, thinks the Central State development idea dovetails nicely with
the Indianapolis Convention and Visitors Association's vision of making Indianapolis a destination for youths participating
in sports.
"Youth and participatory sports is a big and growing market," Morton said. "The critical component [for
making this new development work] would be the programming and the marketing of the programming. That would need to be done
through a private partnership."•
Please enable JavaScript to view this content.