Local restaurant-chain owner Mike Cunningham knows there are plenty of small dining spots serving only beer and wine, and
they do just fine.
But he doesn't want to be the one to find out how much business is lost to competitors that pour the hard stuff. That's
why he makes sure each of his seven dinner locations has a full liquor license, whether it costs a couple of thousand dollars,
or $50,000.
"It's vital," the owner of Cunningham Restaurant Group said. "I can't imagine having a restaurant
without a liquor license."
Finding that golden ticket in Indianapolis can be tricky—and costly. The state Alcohol and Tobacco Commission has issued
all 321 permits allotted to Marion County under a state-mandated quota. Unless a restaurant is opening in a special "off-quota"
district, the owner has to find someone willing to transfer an existing license.
And the recession didn't drive down prices as much as some people who broker the licenses expected. Prices paid over
the past 12 months range from $35,000 to $50,000, license consultant Greg Genrich said. In the depths of the downturn, he
said, all sales were near the low end of that range. Now, more business owners are expressing interest, and prices are moving
back up.
"Everyone was convinced all these bars were going to close down," Genrich said. "Between the recession
and the impending smoking ban, all these taverns were going to be going out of business."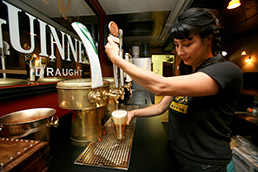 Server Sarah Abrams prepares a beer for a customer at Red Lion. The restaurant does not have a full liquor license. (IBJ Photo/
Perry Reichanadter)
Mayor Greg Ballard chose not to back a comprehensive smoking ban last fall, and the City-County Council put the issue on
hold. Marion County banned smoking in public places in 2006, but the ordinance doesn't apply where minors are not admitted.
While some restaurants have gone out of business, Indianapolis hospitality industry attorney Bart Herriman said, "It's
not a mass exit from the industry."
Trevor Belden, who opened a bar called "The Ball and Biscuit" on Massachusetts Avenue in late June, said he expected
to find more of a bargain on his liquor license.
"I started doing this in the middle of the recession. I thought there would be more available, but that wasn't
the case," Belden said. He said a confidentiality agreement prevents him from disclosing what he paid.
Cunningham obtained the license for his next restaurant, Mesh, as a package deal that included other assets of the former
Scholar's Inn on Massachusetts Avenue. He declined to reveal terms. The most his company ever paid for a license alone
was $50,000 for Stone Creek Dining Co. in Noblesville.
In Indianapolis, the number of licenses being brokered at any one time is less than half a dozen, and lately just two or
three, Genrich said. That means a small shift in supply or demand can affect prices.
"It's the most imperfect market," Genrich said. "I've seen them sell as low as $12,000, and
I've heard of people paying in excess of $70,000."
The state fee for beer-and-wine-only permits is $750, and fee for a full (three-way) liquor license is $1,000, assuming one
is available. The state uses the same quota system for both permits, but demand for liquor permits is much higher. Quotas
are driven by population within a municipality—one permit for every 1,500 people.
For Indianapolis, the quota is determined by the population inside the pre-Unigov city limits. ATC staff member Nora Feeney
said the allotment of 321 already exceeds what would be allowed by a one-per-1,500-people quota, so the commission doesn't
expect to issue new permits anytime soon.
The going price in Indianapolis is relatively low, compared with some suburbs and college towns.
Liquor licenses in Carmel cost around $70,000, Genrich said. That's down considerably from early this decade, when
the opening of the Clay Terrace retail project at U.S. 31 and 146th Street sent prices shooting past $200,000.
Since then, the recession has played a big role, as have Carmel's special census counts, which have allowed the fast-growing
city to get additional licenses.
Student populations keep demand high, but they never figure into the census. That's why a liquor license in Bloomington
can cost from $120,000 to $170,000, Genrich said.
The presence of a large number of national chains also can drive up prices. Genrich said the last license he brokered in
Avon cost $100,000. The ATC has issued only 10 three-way restaurant licenses in that Hendricks County town, and most have
been taken up by chains like Applebee's and O'Charley's.
Some downtown Indianapolis restaurants are lucky enough to fall within special licensing districts where no quotas apply.
Bars and restaurants that are in Circle Centre mall, attached to hotels or on the Central Canal can all obtain permits directly
from the state.
"The Indiana General Assembly created 'off-quota' permits in order to incent development in certain areas,"
said Herriman, a former ATC chairman. The canal is classified as a riverfront area, while downtown establishments like Ruth's
Chris Steakhouse and Harry and Izzy's have their licenses under the "civic center" designation.
The Indianapolis market didn't strike Red Lion Grog House owner Wally Bolinger as especially affordable.
"The cheapest one I could find is $40,000, which is way over-priced in my opinion," he said.
Bolinger opened the Red Lion this winter with his own savings, plus proceeds from the sale of another restaurant he'd
managed. He settled for operating under a beer-and-wine permit.
The owners of Chatham Tap on Massachusetts Avenue decided last year to take advantage of the recession's impact on
real estate, and started hunting for a second location.
They were ready to suck up the second liquor license as a major expense, co-owner Daniel Jones said. Then they stumbled onto
the former Fionn Maccool's in Fishers. The location had several points in its favor, but Jones said the clincher was
the liquor license. The ATC issued several new licenses in fast-growing Fishers, so with legal fees, it cost a mere $1,900.
"When we found out the liquor license would be that cheap, that tipped things," Jones said. "It made our
decision a lot easier."•
Please enable JavaScript to view this content.