Eli Lilly and Co. is launching a diagnostics division to produce tests that can winnow out the patients most likely to benefit
from a Lilly drug.
The new unit places Indianapolis-based Lilly in a growing field of drugmakers trying to find diagnostic tests to help physicians
tailor their medicines to only the patients helped and not hurt by them.
More precise use of drugs is the key way pharmaceutical companies will be able to fetch premium prices in the future. That's
because a raft of new generic versions of drugs is dragging prices down and because health insurance plans are demanding that
new drugs show significant improvement over existing drugs.
And for Lilly, it hopes diagnostic tests can help it achieve medical breakthroughs that produce blockbuster drugs to offset
the billions in sales the company will lose over the next four years as its best-selling drugs see their patents expire.
"This is kind of the next step," said Tiffany Olson, Lilly's vice president of diagnostics, in an interview
at Lilly's corporate headquarters south of downtown. "It's making the promise actionable: right patient,
right time, right dose."
Olson
The new Lilly unit officially formed in June after Olson led a six-month strategic-planning exercise. Olson joined Lilly
in November, 18 months after she stepped down as CEO of Roche Diagnostics' U.S. headquarters, based in Indianapolis.
Olson directs a team of four employees now, but she intends to hire more people with special skills in diagnostic regulations
and testing design. Otherwise, Lilly plans to collaborate with outside companies, using all manner of funding, licensing and
even acquisition deals.
"We absolutely understand we can't invent everything here," she said. "We will use partners."
The formation of Lilly's diagnostic unit comes after more than a decade of company leaders talking about "personalized
medicine" and "tailored therapeutics."
The concept recognizes the reality that most drugs work in only about one-third of the patients who take them. Scientists
often don't know why that's the case. They suspect patients' different genetic makeups lead their bodies
to produce different levels of key proteins, also known as biomarkers.
By creating tests that measure the levels of these protein biomarkers, Olson and the team at Lilly think they can identify
the subgroups of patients who benefit most from a Lilly drug as well as identify which dose is right for different subgroups
of patients.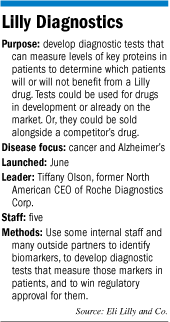 Lilly has latched onto "tailored therapeutics" as one of its key strategies to
offset its loss of revenue after Zyprexa's patent expirations bring in generic copies of the $5-billion-a-year antipsychotic
in October 2011. Four other Lilly blockbusters also will lose their sales to generics by 2014.
In a recent interview with the Swiss newspaper Finanz und Wirtschaft, Lilly CEO John Lechleiter even elevated diagnostics
to one of the three key areas where the company is looking for acquisitions. The other two areas are biotechnology and animal
health, according to a Reuters account of the paper's coverage.
Olson's team will focus on diagnostics for cancer and Alzheimer's patients. Those two areas account for 28 of
the 65 experimental drugs Lilly is testing in patients.
Lilly has two experimental Alzheimer's drugs in Phase 3 testing, the last stage before seeking regulators' OK
to bring a drug to market. Lilly is counting on at least one of those drugs to prove effective to dig out of its looming patent
challenges.
Having a test that allowed doctors to diagnose Alzheimer's earlier in patients could be a boon for patient health—and
for the sales of a Lilly Alzheimer's drug.
"It's one that we think is very important," Olson said.
Few successful examples
Successful examples of drug-diagnostic combinations are few.
One of the earliest examples was blood glucose meters that diabetics use to tell them when and how much insulin to take.
Those meters arrived decades after Lilly launched the first insulin in the 1920s.
But Terry Hisey, leader of the U.S. life sciences practice at Deloitte Consulting, sees several industry trends that will
continue to push pharmaceutical companies to develop diagnostic tests alongside their experimental drugs.
Drugmakers that have recently formed partnerships with diagnostic makers include New York-based Pfizer, United Kingdom-based
AstraZeneca plc, U.K.-based GlaxoSmithKline plc and California-based Amgen Inc.
In addition, companies such as Switzerland-based Roche and New Jersey-based Johnson & Johnson, which have drug and diagnostic
businesses under one roof, are trying to get the two to collaborate on drug-diagnostic combinations.
The poster child for a modern drug-diagnostic combination was the 1998 launch of the breast cancer drug Herceptin, made by
Roche's Genentech Inc. subsidiary, and the Hercept-Test, made by Dako Denmark A/S.
The Hercept-Test determines which women have genes that produce an abundance of the protein HER2. Herceptin proved effective
against the cancers of those women, but not in others.
Herceptin now rakes in annual worldwide sales of $5 billion. Its success has encouraged an avalanche of investment by pharmaceutical
companies into cancer research and, now, into diagnostics to help winnow out the subgroups of cancer patients best suited
for a new drug.
And since cancer drugs can cost tens of thousands of dollars per course of treatment, any test that helps doctors choose
the right medicine could produce huge savings.
"There's a phenomenal amount of money that's spent in oncology treatments that, likely with the right diagnostic
test, you would not have pursued that particular course of treatment," Hisey said.
With health insurance plans and even hospitals now demanding that drug companies produce data to demonstrate their new drugs
have cost and benefit advantages over existing treatments, Hisey said, diagnostic tests provide a way to meet that demand.
"I have to have a compelling case from a clinical standpoint but also an economic standpoint," he said.
Genetic tests
Lilly already is involved in developing and winning approval for at least one diagnostic. It tests for the presence
of a mutation in a gene known as K-RAS, in the tumors of colon-cancer patients.
The drug Erbitux, made by Lilly subsidiary ImClone Systems, works only in patients whose tumor's K-RAS genes are not
mutated.
A K-RAS test was launched in 2007 by U.K.-based DxS, which has since been acquired by Qiagen N.V., based in The Netherlands.
But the K-RAS test has yet to win approval in the United States.
The K-RAS test limited the breadth of colon cancer patients who were potential Erbitux users. But sales actually have risen
in Europe, where Erbitux is marketed by Germany-based Merck KgaA. That's because doctors are prescribing it more often
for patients within the subgroup, and for longer periods.
It's genetic testing that holds the most promise for companion diagnostics, said Tony Butler, a pharmaceutical stock
analyst at Barclays Capital in New York.
That's because diagnostics based on biomarkers first require scientists to discover a biomarker. A host of biomarkers
have been found recently, particularly amid the explosion of pharmaceutical research into cancer.
However, Butler said, finding a biomarker that really leads to an efficient, scalable test is kind of like drilling for oil.
"It's just brute force," he said. He added that while he thinks Lilly is smart to pursue a diagnostics
strategy, it has no impact on his revenue projections for the company.
However, with the price of genome sequencing falling rapidly—Roche Diagnostics and IBM partnered this month to develop
a sequencer that could cost as little as $100 per test—Butler foresees patterns of genes guiding which patients get
a certain drug—or even any drugs at all.
"That's actually an area where I can see technology making a difference," he said.
Lilly scientists agree. In an interview in May, Dr. Richard Gaynor, Lilly's chief of oncology, predicted that in five
years, every cancer patient will have the genes in his or her tumor completely sequenced.
"That's going to be the paradigm," Gaynor said, adding, "That fits right into our corporate philosophy."•
Please enable JavaScript to view this content.