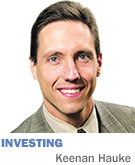 There may come a day when all of us are driving around in golf carts, but Elon Musk, a co-founder
of PayPal, is doing his best to make sure the era of the electric car is more the adventure on wheels that Americans are used
to.
His car company, Tesla, went public a few weeks ago, truly a milestone in the auto world.
Tesla has been selling an electric car for a few years already and has experienced some success. Its roadster is a tiny sports
car that some wealthy car enthusiasts have purchased for about $100,000. Until the company went public, though, this has been
kind of an experiment with some interesting results. Wall Street is a much more demanding partner than a bunch of curious
scientists, however, and the pressure will be on to deliver a mass-produced vehicle with serious sales capabilities.
The corporate leaders of Tesla have technology backgrounds that will serve them well in this somewhat new space. But there
are massive hurdles as well as huge competition, which may explain why the last automobile initial public offering in the
U.S. was Ford in 1956. Toyota and Benz have invested millions in Tesla, and our government gave them more than $400 million
recently.
The company has potential, but I think it will end up like the fuel cell company Ballard Power. At some point, fuel cells
may answer the hype they've lived under the last 15 years, but after a big IPO and large investments from Benz and other
giants, Ballard is struggling to stay alive. It will be a long road for Tesla as well.
It looks like electric cars will be with us for a while. If you've watched any Tour de France this year, you've
seen ads for Nissan's new electric car, the Leaf. It looks like a normal car, but there are some major differences.
The Leaf has no gas engine. It runs completely on lithium ion batteries.
Americans love cars because of the convenience, but the Leaf requires a little sacrifice in that department. First, it takes
eight hours to charge the batteries using the more robust 220 system. A full charge gives the car only a 100-mile range. So,
no road trips to the beach. Also, the car is expensive for what you get. It looks smaller than a Civic for quite a bit more
cash ($27,000, only after $7,500 in tax credits). It still has the feeling of an experiment.
Near the end of 2011, General Motors (yes, it is still in business) will release an electric vehicle called the Volt. This
is not utopia, either, but it could be a better solution than anything seen so far.
The Volt uses the hybrid approach with batteries and a gas engine. Like the Leaf, the Volt takes several hours to charge
and it will deliver 40 miles with the batteries. After that, the gas engine takes over and the car can travel normal miles.
The Volt will be a sedan-size car that should cost around $45,000. It will probably be GM's ticket back to the stock
market.
There hasn't been much noise from Ford regarding the electric space, which is curious because it has become the best
car company in the world. The stock is doing great, it's selling the Focus like wildfire, and its balance sheet just
keeps getting better. Ford probably realizes there is no need to rush. They will be there.
A quick note about the market itself: The second quarter was a nasty affair and I felt the late-April high was not the end
of the run that began last March. This was obviously a painful stance. There has been a huge bounce over the last few weeks
that should have at least a little more upside over the next few weeks. It looks like a bottom is at least temporarily in
place, but there is work to be done on the upside before the all-clear sign can turn back on.•
__________
Hauke is the CEO of Samex Capital Advisors, a locally based money manager. His column appears every other week. Views
expressed here are the writer's. Hauke can be reached at 203-3365 or at keenan@samexcapital.com.
Please enable JavaScript to view this content.