Moody's Investors Service raised its rating on Columbus-based Cummins Inc., saying the company has worked to insulate
its business from downturns.
The rating rose one notch, from Baa3 to Baa2. The outlook remains stable.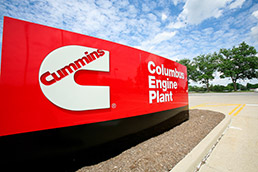 Cummins
increased its dividend on common stock by 50 percent. (IBJ File Photo)
Moody's noted that Cummins has cut its cost structure and boosted other areas of its business. It's also worked
to expand joint ventures to produce engines in emerging markets.
"As a result of this strategy, Cummins was able to maintain solid debt protection measures despite the most severe
downturn in the North American medium- and heavy-truck industry, and the broader weakening in the global economy," Moody's
said in a prepared statement.
The upgrade came July 13, the same day Cummins' board boosted the quarterly cash dividend on common stock 50 percent,
to 26.25 cents per share.
The dividend is payable Sept. 1 to shareholders of record on Aug. 23. The last time the company raised its dividend was in
July 2008.
"The company has performed well despite operating in challenging economic conditions for much of the past two years,"
CEO Tim Solso said. "As a result, we are in a position to further reward shareholders for their confidence in Cummins
as we continue to position ourselves for a period of strong long-term growth."
Please enable JavaScript to view this content.