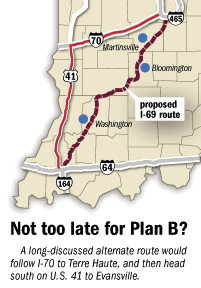 Some opponents of the Interstate 69 extension says it's not too late to kill the project even though concrete has been poured for two miles in southern Indiana, and another 60 miles or so is under construction or in an engineering phase.

The Hoosier Environmental Council says the Evansville-to-Indianapolis highway not only will cost more than projected but also will delay other road projects in the state.

"That's the cost of emphasizing mega projects," said Tim Maloney, senior policy director at the organization, which for years argued that improvements to Interstate 70 and U.S. 41 would be less expensive and less disruptive environmentally.

Gov. Mitch Daniels championed the new-terrain route, and under almost no foreseeable scenario would cancel it. The largest new-terrain interstate project in the nation has been a bragging point.

But the council contends other major projects funded by part of the $3.8 billion lease of the Indiana Toll Road are being delayed due to lower-than-expected revenue for the Indiana Department of Transportation.



INDOT, Maloney noted, has reserved $700 million for I-69—money not available for other projects.

The council also contends INDOT will still need at least $2.5 billion to complete the northern half of I-69.

"Funding for I-69 will compete with all the other road projects around Indiana that also would be funded with gas tax revenues," Maloney said.

The environmental group said the rejected I-70/U.S. 41 route would cost $900 million, perhaps a little more now with inflation. The latter will go through more urbanized, environmentally sensitive areas.

One project the council claims has been affected by the costs of the new-terrain route is adding travel lanes on U.S. 41 north of Evansville. The group says that project is being pushed back from this year to 2018-2019.

Some Major Moves projects, such as the rebuilding of I-465 and its interchanges on the west side of Indianapolis, have turned out to be less ambitious than projected. That's caused some to speculate the agency is reserving money for future I-69 needs.

INDOT scrapped a plan to maintain the cloverleaf configuration at I-465 and Sam Jones Expressway near Indianapolis International Airport. Instead, INDOT opted for a simple ramp configuration with traffic lights.

South of the Sam Jones, INDOT eliminated complex flyover ramps from a new interchange with I-70 and left intact the cloverleaf ramps. In all, the west-side I-465 project has been pared to $550 million from original estimates of $800 million.

INDOT spokesman Will Wingfield denies that the changes were related to I-69, saying all the I-465 changes were made for sound engineering reasons.•