This week, the artistic side of Indiana Black Expo's Summer Celebration. Plus, "Star Trek" on the Prairie.
____________

The Cultural Arts Pavilion at this year's Indiana Black Expo Summer Celebration seemed under-populated this year, with only a few cultural organizations touting their events and attractions.

Among the few, though, the Eiteljorg Museum of American Indians and Western Art was doing advance work on its 2011 show exploring African-American/Native-American relations. And the Indiana History Center brought in its new touring photography show "Faces in the Crowd" that encourages viewers to look past the politicians in the forefront to those who came to see them.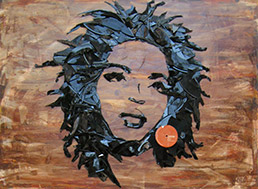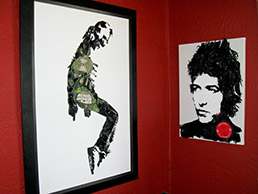 Lauryn Hill, top, Michael Jackson and Bob Dylan are among the familiar subjects of Lobyn Hamilton's work. (IBJ Photos/ Perry Reichanadter)
Meanwhile, artists themselves were boothing in the corridor. Among them: Lobyn Hamilton and his eye-catching work. Seen from a distance, his pieces might seem like something you'd find in a music shop—simple, faithful re-creations of familiar portrait images of the likes of Jimi Hendrix and Bob Dylan.

Get a little closer, though, and the medium becomes part of the message: Hamilton creates his work out of broken records. (For those under 25, records were vinyl discs that served as carrying devices for recorded music. Ask your parents.)

The artist says he came upon the form accidentally. A deejay by profession, he injured his leg, making it impossible to stand up for the amount of time required to work his turntables. Frustration led to some album smashing, which led to artistic inspiration. Few artists have a better origin story than that.

On the pure craft level, the work is remarkable. The likenesses are unmistakable. What obsessive Prince fan wouldn't want Hamilton's portrait of the purple one?

But there's more than craft at work here. Light catches the shards in different ways, allowing the images to pop beyond their obvious three-dimensionality. And the vinyl can't help but bring back memories in viewers—different ones for those whose musical history goes back to pre-iPod days and for those who know discs primarily as objects scratched and sampled by deejays.

If Hamilton's work doesn't yet transcend completely, that's because his primary sources are such familiar images and close representation is essential to the impact. Will his work still be as effective when he goes beyond the iconic images into purely original territory? I'm looking forward to finding out.

Want to see Hamilton's work for yourself? Two of his pieces, including the Lauryn Hill portrait pictured on the previous page, will be on display at the Indianapolis ArtsGarden through July 30 as part of the exhibition "Flava Fresh VII." From there, they will move to the IUPUI Cultural Arts Gallery Aug. 1-28. He also will be showing his work at Oranje, the cultural happening that's happening Sept. 18-19. For more on Hamilton, visit www.vinylrecordartist.com.
____________

Daylight-saving time was no friend to the first act of Symphony on the Prairie's "Sci-Fi Spectacular (July 16-17).

That's not to say there wasn't fun to be had in the main title music from "Star Wars" (I found myself trying to remember the feeling of hearing that music for the first time back in 1977) and the "Superman March" from the 1978 film (thank goodness we didn't have to hear anyone singing/speaking its love theme, the embarrassing "Can You Read My Mind?"). And original Star Trekker George Takei was on hand to share some behind-the-scenes anecdotes from the TV show and movie redo.

But if you can't have the movie playing or the TV on, this is music best heard under a starry sky. And that celestial canopy didn't cover us until into the second half. By then, we had gone from Strauss' "2001: A Space Odyssey" theme (I know that isn't the original title, but come on), excerpts from "Close Encounters of the Third Kind" (Did we really embrace wholeheartedly a movie about a guy who abandons his family to go off to space with aliens?), and Michael Giacchino's charming music from "Up."

Giacchino's suite from the recent "Star Trek" redo also proved well worth hearing out of the film's context. And while Bernard Hermann's music for "The Day the Earth Stood Still" seemed more curious than complete, Takei voiced the closing speech from alien Klattu with suitable bombast. I'm not sure, though, that many in the audience knew what they were hearing.

The highlight of the evening came when uncredited crooner/pianist Tony DeSare stopped in for an exhilarating take on "Fly Me to the Moon" that honored the original while joyfully refreshing it. With so much looking to the future, it was great to have a blast with the past.•

__________

This column appears weekly. Send information on upcoming A&E events to lharry@ibj.com. Visit www.ibj.com/arts for more reviews, previews and blog posts. Twitter: IBJarts