Masco Corp., the parent of Carmel-based Delta Faucet Co., has lowered its 2010 forecast for housing starts, a key indicator for the building supplies industry.

The forecast was part of Masco's July 27 earnings announcement. The Taylor, Mich., company now expects housing starts to rise from 554,000 units in 2009 to at least 575,000 units, or at most 625,000 units.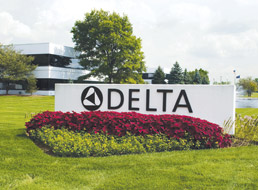 Delta Faucet Co. is part of Masco Corp.'s plumbing division, where sales are growing this year. (IBJ Photo/Eric Learned)
That's lower than the range of 600,000 to 700,000 units Masco predicted earlier this year.

"After a relatively slow start to the year, we were encouraged that March and April 2010 sales were up high single digits compared to 2009," CEO Tim Wadhams said in a prepared statement. "Since then, economic activity related to our markets, particularly consumer spending and new-home building, has slowed and our business has slowed."

In addition, Wadhams said, Masco expects repair and remodel spending to be "challenged" in the second half of 2010, and that consumers will defer big-ticket purchases.

For the second quarter, ended June 30, Masco reported a profit of $55 million, down from $59 million a year ago. Sales increased 2 percent, to $2 billion. The plumbing division, which includes the Carmel operation, posted the largest revenue gain; it rose 8 percent, to $682 million.

Cabinet division sales fell 5 percent, to $400 million. Installation and services declined 1 percent, to $309 million. Decorative architectural products were flat, at $505 million. Other specialty products rose 4 percent, to $152 million.