Of all the components of central Indiana's quest to become the Silicon Valley of hybrid vehicles, it was Bright Automotive that would be the rolling trophy.

Companies making advanced batteries and motors are coveted, but Bright invoked romantic visions of Indiana's early era as an epicenter of auto making. In the early days of the auto industry, Hoosier giants like Stutz and Duesenberg, along with numerous small companies, gave Detroit a run for its money.

But two years after Bright was founded, the prospect of thousands of Indiana factory workers cranking out Bright's 100-mile-per-gallon "IDEA" delivery vans by 2012 seems dim.

The company hatched out of the Rocky Mountain Institute and located in Anderson recently cut seven workers, including its vice president of marketing. It's down to just fewer than two dozen employees, according to a recent story from Anderson's Herald-Bulletin that Bright posted on its own website. The link was taken down shortly after its New York public relations firm heard of it.

Company officials could not be reached for comment. A spokesman said executives are at a trade show and would be unavailable.

In April, Bright founder John Waters, who in the 1980s and 1990s helped develop General Motors EV-1 electric car here, transferred his CEO title to an investment banker, Reuben Munger, who's been Bright's chairman. Waters now serves as vice chairman.

And Bright's hope for $450 million in low-interest federal loans, through a Department of Energy program to fund advanced technology vehicles, still remains just a hope.

The money would have helped tool a manufacturing plant, possibly in Indiana, where Waters located Bright because of the presence of automotive know-how in Anderson.

So now, Bright is looking to potential outside partners to help get the vehicle into production, casting doubt on the potential for a major manufacturing presence here.

"Our goal now," Munger said this spring, "is to find the right third-party alliance that will allow us to quickly bring the Bright IDEA vehicle to market and meet the significant customer demand."

The odds of Bright's emerging intact amid a fiercely competitive world automotive market have always been long.

Excluding Tesla Motors, a California-based company that makes an electric version of a Lotus sports car, the last American automaker to rise up and survive for any length of time was Chrysler—in 1924.

"Many people have tried. John DeLorean, Henry Kaiser tried. Those companies are no longer with us," said John Voelcker, senior editor of GreenCarReports.com, who follows the emerging automotive hybrid industry.

Voelcker said many analysts don't even see Tesla surviving as a stand-alone company in the long term, despite its recent, much ballyhooed initial public stock offering.

Bright has raised at least $16 million from private investors over the last year, according to Securities and Exchange Commission records.

But private funding alone is probably not enough to fuel an enterprise that intends to engage in automotive manufacturing, which is "ferociously expensive," Voelcker noted. Just to develop a vehicle platform can cost GM or Toyota $1 billion over five years.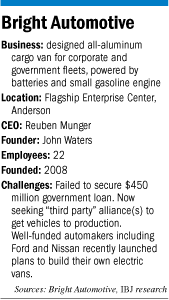 Bright, of course, is not so ambitious. Its niche is the lower-volume delivery truck market. The economics in this niche are more favorable. Most vehicles drive routes of less than 100 miles daily, many in city driving that is ideal for an electric motor.

Bright estimates its van could travel at least 40 miles on battery power alone, before the need to engage a small gasoline engine it plans to source from another automaker.

The price for the IDEA hasn't been announced, but most certainly would be more than a comparable-size conventional delivery vehicle. But again, the driving patterns of commercial vehicles could well justify the higher vehicle cost.

Voelcker has driven a prototype of the swooping, 3,400-pound IDEA. He praised its quiet operation and useful design, including a foldable seat that doubles as a work surface—a key feature for its intended users.

"What Bright did, quite sensibly, was say, 'We're not going into the [general] automotive business,'" he added.

But if Bright had hoped mainstream automakers would ignore this delivery vehicle market, it got a surprise last October. That's when Nissan Motor Co. announced it would build an electric version of its NV200, a high-tech, light commercial van it will manufacture in Canton, Miss.

And then, in February, Ford Motor Co. announced it will start selling as early as the end of this year an electric version of its diminutive Transit Connect delivery van. With a stated range of 80 miles on a charge of its lithium-ion batteries, the electric Transit Connect is being aimed at small fleets, including at the U.S. Postal Service.

The USPS is currently one of Bright's handful of clients, although the postal contract merely involves converting existing postal vehicles rather than supplying its IDEA.

Could an upstart produce vehicles cost-effectively at low volumes vs. a Ford or Nissan? Not likely. Voelcker said he'd be surprised if Bright survives as an independent truck maker over the long haul.

On the other hand, he and others could see Bright's technology being valuable to an existing automaker capable of cost-effective mass production.

"Bright's technology on the IDEA is exactly where we're heading … . I believe their work in the last two or three years has been a catalyst" for the hybrid delivery niche, said Rob Sparks, executive director of the Corporation for Economic Development in Anderson. The group has been buttonholing lawmakers to throw some financial support to Bright.

Ironically, however, the federal government's loan program for hybrid upstarts may have been bad for the innovative Bright, Sparks reckons. Suddenly, rather than a business plan or technological merits as main consideration, investors subsequently have flocked to companies that the government bestowed with grants. Sparks wonders whether Bright otherwise might be preparing to sell the IDEA by now, if not for the effect of the federal assistance program.

"It disrupted the natural flow" of investment, Sparks added.

Among the requirements for the Department of Energy loans is that companies retool certain types of existing manufacturing facilities, and that recipient companies be perceived to be viable without the loans, Voelcker said.•