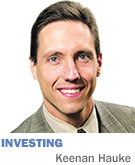 For almost nine years, I have been writing about the risks and rewards of Wall Street, and I am always on the lookout for intriguing moneymaking opportunities.
Sometimes that meant buying stocks or commodities like gold, but sometimes the best way to make money was to do nothing. Well, there has been a powerful trend building over the last few years that I have completely missed. Some people are making money hand over fist in this area and it has been going on right under my nose. And I feel bad because I am the last person to get wind of this.
We all know our federal government has a printing press in the basement that the feds use anytime they want more money. It may have taken a few decades, but government employees are wise to the racket, and they are making sure they get their fill from the press. According to research done by Luethold Funds, the average non-military federal government employee makes $119,000 a year. That compares with an annual take of about $60,000 for private-sector workers. This totally corrupt pay culture has filtered throughout the entire government structure of America.
Do you know how much your superintendent of schools makes? You don't want to know! In Bell, Calif., the city manager makes $800,000 a year, for a town with only 30,000 people! Any intelligent person, regardless of political party affiliation, will agree that government doesn't improve the human condition more than the private sector. OK, then why do we allow this behavior to continue?
The unprecedented size of government in America matters to anyone who is concerned about wealth creation in this country. Anyone who cares about the value of their retirement accounts and their future financial goals needs to pay attention to this situation. The stock market cares. That was made painfully evident in the second quarter as global equities got hammered out of concern for huge budget deficits and runaway government spending.
Markets have calmed down a little in the last few weeks as places like Greece commit to shrinking their government and to less public spending. So far, these steps are making sense, but they are small and the effects might be short term. Investors need even more certainty from global governments that they will curtail spending in order to tame deficits and shrink government. Smaller governments will quickly allow tax cuts, which will unleash capital into a system that desperately needs it. Failure to continue in the direction of spending cuts has the potential to wreck the global economy and bring our market down to scary low levels over the next few years.
Personally, I am leaning on the side of a positive development. The recently announced austerity programs are nothing new to private-sector employees. American businesses have been tightening their belts for two years now and are better because of these actions. Corporations and business owners are sitting on near-record levels of cash. We know we can produce more value than the government. We are just waiting for government to get out of our way so we can get back to work.
A long-term commitment on behalf of our government to radically reduce spending and cut taxes could put the Dow at 20,000 within five years. How does that fit into your financial goals?
The second quarter wasn't the best for stocks. The Standard & Poor's 500 fell 12 percent during that time, making it one of the worst quarters in history.
If the current rally begins to slow and weaken, it might be time to lighten up and get some defense on the field. For now, a watchful eye makes the most sense.•
__________
Hauke is the CEO of Samex Capital Advisors, a locally based money manager. His column appears every other week. Views expressed here are the writer's. Hauke can be reached at 203-3365 or at keenan@samexcapital.com.
Please enable JavaScript to view this content.