The Indianapolis Colts sales and marketing staff is moving like it's in the midst of a two-minute drill—even
though the team is way ahead.
Despite a mostly depleted inventory of season tickets and luxury suites, franchise representatives have made a record 844
appearances in the last year across Indiana and into Kentucky with the team's Make It Personal tour.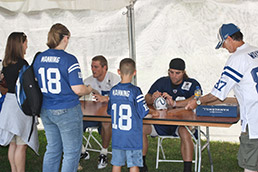 Wide receiver Austin Collie, left, and Defensive Back Jamie Silva sign autographs for fans at this year's training
camp in Anderson. (Photo Courtesy Indianapolis Colts)
Team officials said Colts players, mascots and cheerleaders have made more appearances than those from any other National
Football League team this year—by a wide margin.
"There isn't a team out there that's doing it any better," said Marc Ganis, president of Chicago-based
Sportscorp Ltd., a sports business consultancy that counts several National Football League teams as clients. "From
a regional marketing standpoint, they've become a model not only for small-market teams, but the entire league."
Despite the team's run to the Super Bowl last year, a star-filled roster capable of turning heads on its own, and a
stadium that sold out before training camp began, Colts officials say there's still an urgency to deepen the team's
relationship with fans and sponsors.
Tom Zupancic, Colts senior vice president of sales and marketing, said the team makes about twice as many community appearances
as the average NFL franchise.
"There's this misperception that since much of the inventory is sold out, we're sitting around with nothing
to do," Zupancic said. "We probably work harder during these times than we do at any other time. There's
no better time to forge relationships in the community than when we're winning and we have people's attention."
The effort appears to be paying off. The Colts had a season-ticket renewal rate of 95 percent, about 5 percentage points
ahead of the league average, according to NFL officials. In addition, Zupancic said, the team has a season-ticket waiting
list of 17,000, up from 11,000 a year ago.
With Colts having sold Lucas Oil Stadium's luxury boxes on multi-year contracts and having achieved their fifth straight
year of season ticket sellouts, what's left to sell?
Plenty, said sports business experts.
The Colts added 20 sponsors to the roster this off season, for a total of 240. That's on the high end, Ganis said,
with most NFL teams scoring fewer than 200 sponsors. Zupancic said the Colts have more sponsors than any of the other 31 NFL
franchises.
"We're in one of the smallest markets in the NFL, so we have to work hard to secure more smaller sponsors,"
Zupancic said. "We've been slowly adding sponsors every year for the last few years."
The Colts' efforts are paying off in more ways than one. Merchandise sales were up last year by a "high-double-digit"
margin, said Dave Moroknek, president of locally based MainGate, who handles merchandising for the Colts and six other NFL
teams.
"We had a huge gain last year over the year before," Moroknek said, noting the run to the Super Bowl added a
full month onto the selling season. "But we've also worked with the Colts to add a long list of new products,
including children's and ladies' apparel, which are the Colts' fastest-growing lines."
Colts pre-season merchandise sales this year are trending up another "low-double-digit percentage" amount, noted
Moroknek, adding that moving the training camp from Terre Haute to Anderson is likely helping the cause.
Things like merchandise sales and sponsorship deals are increasingly important to a team with a sold-out stadium.
"The revenue they get from the league's TV deal and ticket and suite revenue are virtually fixed," said
Richard Sheehan, a University of Notre Dame economist and author of a book about professional sports operations. "They
have to focus on the areas where they can still move the revenue needle, and two critical areas are sponsorships and merchandise."
Forbes magazine this month ranked the Colts as the 20th most valuable sports franchise in the world, with a valuation
of just over $1 billion. The Colts, no doubt, are riding the NFL's high tide. Fifteen of the 20 most valuable sports
franchises come from the NFL. And the Colts rank right in front of two storied franchises, the Pittsburgh Steelers and Green
Bay Packers, in terms of value, according to Forbes.
Forbes calculated the team's annual revenue at $233 million, 14th in the 32-team NFL. Most believe a combination
of the team's Super Bowl run plus its aggressive sales efforts could push that number up considerably this year.
"I think that speaks to the way they've conducted business," Ganis said.
Moroknek said the Colts have become the masters of taking care of the little things, noting that the team this off season
had an AFC Championship trophy tour, much like they did when they won the 2007 Super Bowl.
"That's very unusual in the NFL," Moroknek said. "When it comes to sales and marketing, few [NFL]
teams are as aggressive as the Colts."
Local sports marketers said the Colts likely took note of the road traveled by the Indiana Pacers over the last decade. The
darlings of Indianapolis' sports scene a decade ago, moving to the shiny new Conseco Fieldhouse and making it to the
2000 NBA Finals, the Pacers lost public support with a number of off-court incidents that coincided with the team's
fading on-court fortunes.
"The Pacers haven't been and need to become more aggressive in the outreach to their fan base," said David
Morton, president of Sunrise Sports Group, a locally based sports marketing firm. "That's a 24/7, 12-month-a-year
priority for any sports franchise."
For the Colts, one of the key initiatives is youth outreach, Zupancic said.
This year, the Colts have held 30 youth football camps; 30 fitness camps; and 110 school pride programs to discuss peer pressure,
the danger of drugs, and the benefits of fitness. The franchise has also held cheerleader camps and a high school football
combine that attracted 400 participants, Zupancic said, adding, "All of our events are free."
Though much of the team's marketing is grass-roots, that doesn't mean it's cheap, Sheehan said. He estimates
it's a seven-figure annual investment.
"The thought is that part of the return is increased revenue now," Sheehan said. "But more importantly,
it builds up good will with fans. It becomes like a marriage. And that relationship endures in good times and in bad."•
Please enable JavaScript to view this content.