The battle over the estate of Melvin Simon has thrown a spotlight on a 24-year-old New Jersey development project that, by itself, has made many Simon family members multi-millionaires.

Members of the Simon family including the children of Simon Property Group Inc. founders Melvin and Herbert Simon hold interests worth more than $215 million in the built-from-scratch, 600-acre community of Newport, which sits across the Hudson River from Manhattan.

The privately held Melvin Simon & Associates partnered with New York-based LeFrak Organization in 1986 to begin development of the $10 billion office, retail, residential and hospitality project in Jersey City, N.J.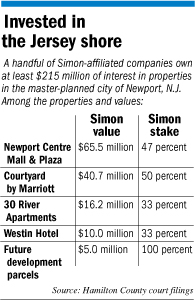 Today, more than 20 office, apartment and condo towers offer impressive views of the Manhattan skyline, and developers tout the community, still growing, as "the largest and most successful mixed-use community in the world."

The project also represents a big chunk of the Simon family fortune—even though Melvin Simon's disputed $2 billion estate owns only a small portion of it. Details of the family's investments in Newport and an estimate of what they are worth have emerged in the legal battle over the estate playing out in Hamilton County.

Most of the family's Newport properties, valued at $144 million, are held in a family holding company called SFG Company LLC, which also controls 6.6 million partnership units convertible into Simon Property Group Inc. common shares.

Melvin's estate owns just 4 percent of SFG, a stake that was worth about $20 million in January 2009, before a furious rally in Simon Property shares.

Most of the rest is owned by his three children from his first marriage—Deborah Simon, who is challenging her father's will, and siblings Cynthia Simon-Skjodt and David Simon, the CEO of Simon Property Group.

Deborah claims Melvin was coerced into approving a new estate plan that increased the amount of his fortune going to wife Bren from one-third to one-half, cutting out promised charitable gifts. Bren contends the estate plan reflects his wishes.

Documents in the case suggest Deborah and her siblings are worth at least $100 million each, based solely on their interests in SFG.

As of January 2009, when Simon shares traded at half the level they do today, Deborah personally owned an interest in SFG worth $94 million.

Her sister, Cynthia, held $98 million of equity in the holding company and brother, David, had a stake worth $87 million. Their stakes have grown in value by leaps and bounds as Simon shares jumped from about $43 at the time to more than $90 this month. (David also owns more than 517,000 Simon Property shares directly worth $47 million.)

Documents show each of the siblings holds separate interests in the Newport development under a company called Simon Newport Investors LLC: Those interests add an additional $15 million in equity for David, $8 million for Deborah, and $4 million for Cindy, documents show.

However, cashing out the partnership units would likely result in a huge tax hit for the Simon family members, since the basis is so low.

And it's possible the value of the Newport stakes was overstated. The figures were provided by attorneys for Bren Simon, who has sought to paint her stepchildren as spoiled and greedy, never happy with their father's generosity.

The documents did not provide a balance sheet for each project or explain how equity values were determined.

Simon family members could not be reached for comment on this story.

The ambitious Newport vision involved replacing a wasteland of rotting railroad yards, warehouses and piers with a gleaming modern city with millions of square feet of office and retail space and thousands of apartments and condos, all connected by rail to New York City.

The developers spent more than $100 million on roads and other infrastructure and $40 million on environmental cleanup before building construction began.

Melvin Simon signed on to partner on the development a few years after he and Herb bought the Indiana Pacers in 1983. The deal was one of a "slew of partnerships that allowed the company to keep growing at a time when many competitors floundered" amid a real estate slump, according to a report last year by the International Council of Shopping Centers.

The partner in this case was privately held LeFrak, founded by Harry LeFrak in 1901 and today run by grandson Richard LeFrak. The company has developed residential and office properties in New York, Los Angeles and London.

When Simon Property Group staged its initial public offering in 1993, the Simon family held onto its Newport holdings rather than rolling them into the public company.

Simon Property manages the three-level, 1.2-million-square-foot Newport Centre Mall and Newport Centre Market, a lifestyle mall along the waterfront, but the publicly traded company does not own the property, documents show.

Family members own about 47 percent of the mall, which is anchored by Macy's, Kohl's, Sears and J.C. Penney. Documents show the stake is worth $85 million.

The family's ownership stake in Newport includes a 33-percent interest in several apartment buildings, adding up to an estimated value of $86 million.

They own stakes in a 187-room Courtyard by Marriott and a 429-room Westin hotel worth almost $51 million, along with parking garages and undeveloped land.•