This year, the Indiana State Fair is celebrating the Year of the Pig. And that means pork is the main attraction in five
dishes that were selected as finalists in the Fair's Signature Food contest.
First, it needs to be said that the selection process for this award is absurd—even by local contest standards. In
short, submissions from vendors are commented on by judges, but those judges don't pass judgment. Instead, Indianapolis
Star readers look at the pictures, read the comments, then vote without having tasted the food.
Seriously.
To counter that, we hit the Fairgrounds on a (surprise) blisteringly hot afternoon and sampled all five. Here are our thoughts
after actually eating them.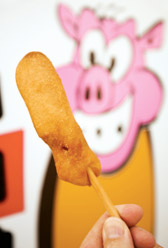 (IBJ Photos/Perry Reichanadter)
R.E. Smith Concessions' Pig in a Pancake, top right. You've got to love an entrée that has its own cartoon
character logo. Here, a squishy sausage link is given the corn-dog treatment, only with Aunt Jemima pancake batter. The warm
dipping syrup helps bring out the pancake flavor, but our sausage should have been cooked longer. Look for it near the Cattle
Barn. ($5)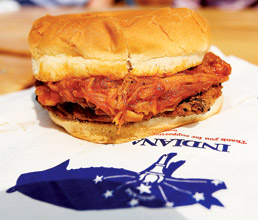 Indiana Pork Producers' Garbage Burger. Where the rest of the finalists were, at best, appetizers, this was a real
meal. Our concern was that the shredded pork and the pork burger it topped would cancel each other out, flavor-wise—or
would seem like just more of the same with different textures. But the combo proved a winning one—both for us and the
non-tasting voters. Our only suggestion: something better than the out-of-the-bag bun. Find it at any of the Indiana Pork
Producers' tents. ($7)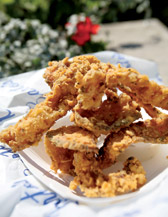 Barto's Catering's Country-Fried Bacon. The peppercorn country gravy is a definite plus for these too-chewy,
breaded bacon strips, but the dish was a bit heavy for the hot day. Warning: The south Barto's location doesn't
carry the bacon. Find it on the north side in the vicinity of the Farm Bureau Building. ($2 for 3, $4 for 5)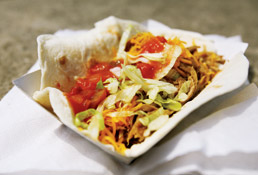 Delia's Pulled Pork Taco. If we stop back again, we might ask for Delia's delicious barbecue sauce to be added
to this soft-tortilla, open-faced taco, in addition to the standard cheese, lettuce and salsa. As it stood, though, the tasty
mini was gone in a few pleasant bites. Find it near the DNR Building. ($4)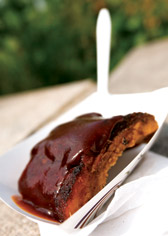 Delia's Root Beer Ribs. So what if we had to try really hard to taste the subtle root beer marinade? These were still
Delia's ribs—smoked on site—in the purveyor's signature barbecue sauce, which is a little spicy and
a lot delicious. Find it near the DNR Building. ($5 for two bones)•
Please enable JavaScript to view this content.