Hoosier Park owner Centaur Inc., which nearly three years ago was flying high after attracting $1 billion in investments,
is becoming a shell of its former self.
Centaur began having trouble making debt payments on properties last year and declared Chapter 11 bankruptcy in Delaware
in March. Its debts total more than $600 million.
Besides Hoosier Park in Anderson, Centaur owns the Fortune Valley Hotel & Casino west of Denver and the troubled Valley
View Downs project northeast of Pittsburgh.
Centaur is set to unload Fortune Valley in an Aug. 23 auction. The so-called stalking horse bidder is Luna Gaming Central
City LLC, which has offered $10 million, including $7.5 million in cash.
The Indianapolis company also has asked a federal judge to approve bidding procedures to auction ownership of Valley View,
a planned racetrack-casino project.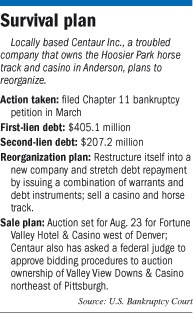 Centaur in 2007 received Pennsylvania's last harness-racing license, which qualified
it for a casino license. Project financing fell through the next year, however, and it has been unable to secure the casino
license from state regulators since.
"Assuming that [Centaur sells] off the Colorado and Pennsylvania properties, we're just looking at the Anderson
facility with no plans for expansion outside of the state, one would presume," said Ed Feigenbaum, publisher of Indiana
Gaming Insight.
That's a far cry from the ambitious growth it sought after buying out the majority partner of Hoosier Park, Louisville-based
Churchill Downs Inc., in 2007.
Soon thereafter, the General Assembly approved the addition of 2,000 slot machines at each of the state's two horse
tracks, Hoosier Park and Shelbyville's Indiana Downs. Centaur ramped up debt to pay the state's $250 million license
fee and to expand Hoosier Park.
But after Centaur's Pennsylvania project stalled and the economy soured, the company found itself overleveraged. In
October, it missed a $13.4 million interest payment, leading the company to seek bankruptcy protection.
Centaur declined to comment on the bankruptcy proceedings, citing the "sensitive nature" of negotiations.
But in a written statement, the company said "it is our intent to emerge from the restructuring process with Hoosier
Park Racing & Casino and its three off-track-betting sites as the principal assets of the reorganized Centaur."
The OTBs are in Fort Wayne, Merrillville and downtown Indianapolis.
Hoosier Park has performed well since the state granted it permission in 2007 to install slot machines. Last month, it produced
$4.6 million in tax revenue for the state, fourth-best among Indiana's 13 casinos.
Centaur overall lost $217 million on $214 million in revenue last year, according to financial statements included in court
documents. Expenses included roughly $103 million in casino operating costs and $80 million in interest payments.
Centaur's reorganization plan calls for holders of $405 million in first-lien debt to recover 83 percent of what they're
owed through a combination of mostly new stock and debt. Holders of $207 million in second-lien debt are in line for a 1.4-percent
recovery.
In some cases, second-lien holders would not receive anything unless the first holders are paid in full, said Indianapolis
bankruptcy attorney Jeff Hokanson, who is not involved in the case.
But oftentimes, he said, "The second lien holder says, 'Look, you're doing this liquidation in bankruptcy
and we're only going to make it easy on you if you pay some ransom, some blood money.'"
Centaur hopes to emerge from bankruptcy in March 2011. An analysis conducted as part of the bankruptcy case found that selling
off all three parts of Centaur likely would raise $234 million to $276 million. The bulk of the value is in Hoosier Park,
which likely would fetch $175 million to $215 million.•
Please enable JavaScript to view this content.