The Indianapolis Colts have brought in a record crowd at this year's training camp—by a wide margin.
Anderson University officials said 85,300 fans turned out at the 18-day camp ending Aug. 18. That's almost four times
as many as attended last year's camp in Terre Haute, Colts officials said.
"I think that shows the number of fans along the I-69 corridor," said James L. Edwards, Anderson University president.
Upgrades to parking, walking corridors, autograph areas and stadium seating also helped drive up attendance, Edwards said.
A night practice Aug. 17 drew 9,500. That far exceeded the 4,800 seating capacity of AU's Macholtz Stadium.
Not even Anderson University officials expected the spectator numbers they saw.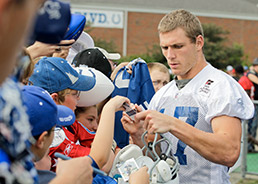 Indianapolis Colts wide receiver Austin Collie signs autographs for fans during NFL training camp in Anderson. (Associated
Press photo)
"This team has a lot of star power, and they're just coming off of a Super Bowl run," said Dave Moroknek,
president of locally based MainGate Inc., which handles merchandise sales for the Colts and six other NFL teams. "Of
all the training camps we've been to, the Colts and [Minnesota] Vikings have had the highest attendance by far. It's
off the charts."
Moroknek said merchandise sales during the preseason are up more than 10 percent compared with last year.
Anderson University has a one-year deal to host the preseason camp. Edwards hopes to get to work on a new deal soon. He said
the threat of a work-stoppage next season as NFL owners and players work out a new collective bargaining agreement complicates
matters.
The Colts' camp is not profitable for the school, Edwards said. Fan admission is free. Parking costs $10, which is
needed to offset security and operational expenses, Edwards said.
But, he added, the publicity from the training camp has been priceless.
Please enable JavaScript to view this content.