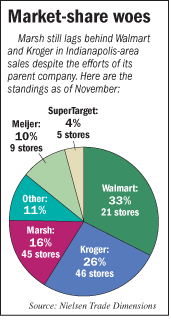 The parent company of Marsh Supermarkets plans to continue investing in the local grocery
chain after it failed to find a buyer.
Florida-based Sun Capital Partners late last year hired an investment adviser and began soliciting offers for the chain of
roughly 100 stores, half in Indianapolis. Industry observers say the asking price was $130 million to $150 million. There
were no takers.
Sun has cleaned up the chain's balance sheet, spruced up dozens of stores, and tweaked the product mix since it paid
$88 million in cash and assumed $237 million in debt to acquire Marsh in September 2006. But none of the moves has boosted
Marsh's market share in Indianapolis, where it still lags both Walmart and Kroger.
For regional and national grocery operators, acquiring a chain that's third place in its home market is a tough sell,
said David J. Livingston, an independent grocery analyst based in Wisconsin.
"They're not ahead of the game like Kroger and Walmart," he said of Marsh. "They're struggling.
They've been looked at by every possible acquirer, and they've been turned down. No one felt like they were worth
the price."
Since the private equity firm took over Marsh, it has slashed $70 million in overhead, sold $80 million in real estate, and
spun off non-grocery businesses including Crystal Catering, McNamara Florist and Village Pantry.
Marsh used the proceeds to pay down most of its debt and plow $60 million into the renovation of the majority of its stores.
A company spokeswoman said Marsh remains committed to supporting and improving the brand in Indianapolis.
"Sun Capital Partners is not currently pursuing a sale of Marsh Supermarkets, nor do they expect to do so in the near
future," Connie Gardner wrote in an e-mail. "We are committed to growing the company by actively pursuing
new store sites and add-on acquisitions while continuing with our remodel schedule for existing locations."
CEO Frank Lazaran was not available to comment, but he told IBJ late last year that Sun had transformed Marsh into
a pure-play grocery chain with a newly remodeled store base and a distribution network with the capacity for as many as 50
new stores.
Marsh had closed more than a dozen stores, cut more than 30 percent of a 500-person headquarters staff, cut inventories,
and sold all but a few real estate parcels including the stores it had owned; the chain now leases its store space. The chain
was on track for $1.1 billion in sales for 2009, down from $1.3 billion in its last year as a public company.
"This company was in trouble," Lazaran said at the time. "We worked Marsh very hard and I can tell you
we're well-positioned going forward."
The fact that Sun is no longer looking to sell, at least right away, should be good news for employees, said Danny O'Malia,
a former Marsh executive. He said his sources inside the company say Marsh is doing better than expected and Sun hopes to
stick around in hopes of wringing out a better price.
"Morale is better since they're going to have a consistent owner," he said. "It would appear to me
that Sun's going to be in charge for a while. For employees, it's a better thing to know they're committed
rather than trying to unload it and cutting back."
O'Malia expects Marsh will consider adding a few stores, buying out another small grocer, and changing the name on
some of its stores again.
The chain in recent years rebranded about 30 former LoBill stores as Marsh Hometown Markets. O'Malia says Marsh may
change the names again so it eventually can market the upscale Marsh the Marketplace stores and discount-oriented Hometown
Market locations to separate buyers.
Adding stores and changing names on existing ones doesn't sound like a smart strategy to Livingston, the grocery analyst.
"It doesn't make more sense to get bigger," he said. "You're just going to have a bigger company
with more underperforming stores."
His question to Marsh executives: What's the compelling reason, other than a convenient location, to shop the company's
stores? Can Marsh compete with Walmart on price? Kroger on service? Or Trader Joe's on a unique selection?
Livingston said there are buyers interested in some of Marsh's locations outside its core market, including a couple
of stores in Ohio. Livingston represented one such potential buyer. A big drawback of buying an entire chain is the 15-percent
sales drop that typically accompanies such a purchase, owing to the learning curve a new owner brings.
Marsh would be a huge undertaking for any chain to come in and run, even if Sun sold the stores for $1 million each, a price
Livingston described as bargain basement.
Once you've fallen behind in the grocery business, it's a tough climb to recover, he said. Marsh has fallen way
behind, with a 16-percent share of the market compared with 33 percent for Walmart and 27 percent for Kroger, according to
Nielsen Trade Dimensions.
"Once you lose a dollar to another grocery company, it's going to cost you two to get those sales back,"
Livingston said. "Comeback stories in this industry are few and far between."•
Please enable JavaScript to view this content.