The meticulous renovation of a stately Victorian mansion on Park Avenue in the 1960s so impressed the grandson of the founder
of Eli Lilly and Co. that he passed a sealed envelope to the leaders of a newly formed historic preservation group.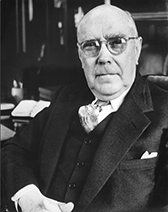 Eli Lilly (IBJ file photo)
The $3 million in Lilly stock certificates inside would help propel the organization now known as Indiana Landmarks to save
historic structures all over the state and grow into the largest organization of its kind in the nation.
Now, a new kind of hands-on philanthropist is helping Indiana Landmarks broaden its mission again and save another majestic
building—a structure that happens to stand next door to the 1865 Morris-Butler House, which inspired Eli Lilly's
gift.
Bill Cook, the billionaire founder of Bloomington-based medical-device maker Cook Group, along with his wife, Gayle, and
their son Carl are pouring $7 million of the $10 million needed to renovate the former Central Avenue United Methodist Church,
also known as Old Centrum.
The building on the northern edge of downtown Indianapolis will become Indiana Landmarks' new headquarters, and the
sanctuary and auditorium are being converted to event space for weddings and corporate retreats. A grand opening is scheduled
for mid-April.
IBJ.COM EXTRA
For a photo gallery of the Old Centrum renovation,
click here
.
Whereas Lilly gave money for an endowment and supported projects that preserved important homes as museums—a widespread
focus of the preservation movement of the 1960s and 1970s—Cook is more entrepreneurial, joining in weekly site meetings
and lending the services of his chief architect, George Ridgway, to manage the construction.
Cook sees what he's doing as much more than preserving the past.
"There's a snowball effect that follows a restoration project: One restored building leads to others and, pretty
soon, you have a thriving area where there was once lack of investment and neglect," Cook wrote in an April column in
IBJ. "In other words, saving landmarks that reconnect us to heritage also spurs economic development and community
revitalization."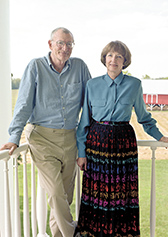 Bill and Gayle Cook. (Photo courtesy of Cook Medical)
The Old Centrum project is not the first time Indiana Landmarks and Cook have partnered to save a building in danger. Indiana
Landmarks spent millions to stabilize West Baden Springs Hotel in French Lick, which features the world's largest unsupported
dome and in its heyday charged double the nightly rate of New York's Waldorf Astoria. Then Cook stepped in to complete
the renovation. All told, renovating West Baden and nearby French Lick Springs Hotel cost $550 million.
Indiana Landmarks is the largest state preservation organization in the United States, both by size of its endowment ($35
million) and membership base (8,700). With a staff of 42 in 10 offices across the state, it is second only to the Washington,
D.C.-based National Trust for Historic Preservation.
The group operates regional offices across the state with the idea they can save more buildings if they know which are in
danger sooner.
Indiana Landmarks prefers to help private owners find profitable ways to reuse historic structures, but on occasion the group
has no choice but to jump in first. Such was the case for Old Centrum.
The former tenants left in 2008, having skimped on maintenance for years. The rusting metal roof and decaying walls, visible
from the interstate, presented a negative image of the neighborhood.
But that is changing. Workers have repaired most of the roof and are installing modern sound, light and fire-prevention systems.
Restoration work has begun on the pews and organ.
An 1892 domed sanctuary will become Cook Grand Theater, and an 1897 wood-paneled former Sunday-school auditorium will be
dubbed Cook Hall. An office wing added in 1922 will house Indiana Landmarks offices.

Davis
"The building will be better than it ever was," said Indiana Landmarks President Marsh Davis. "We're
adding modern structural features to the historic fabric."
Indiana Landmarks intends to sell its existing headquarters—the Charles J. Kuhn House along the Central Canal—for
about $3 million and use the proceeds to fund a maintenance endowment for the Centrum.
The group still must raise about $3 million separate from the Cook funds for the project. It's no small feat, but it
sure beats sitting still.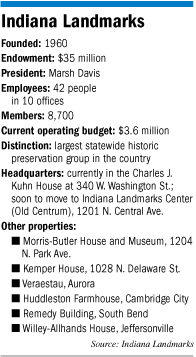 "I love the idea of pulling up stakes once in a while and taking on new challenges," Davis said. "This
is indeed a heroic rescue, at a critical time."
Preserving old buildings was a novel idea in the late 1960s when the group was finishing up its work on the Morris-Butler
House—restoring stenciled ceilings, installing a new slate roof, rebuilding a summer kitchen and privy.
The group that's now Indiana Landmarks had launched a few years earlier, in 1960. At the time, even building owners
who didn't raze historic structures often opted to retrofit them with "modern" façades.
After the renovation, the Morris-Butler House found a place on the National Register of Historic Places. And when Interstate
65 split the neighborhood a few years later, planners adjusted the route to spare the historic home.
Moving the interstate also helped save the neighboring church—and future home of Indiana Landmarks.•
Please enable JavaScript to view this content.