A not-for-profit fair housing group is targeting Indianapolis-based S.C. Bodner Co. with a federal lawsuit, claiming Bodner has ignored government rules that require accommodations for people with physical disabilities in new apartment communities.
The Washington, D.C.-based National Fair Housing Alliance and two of its member groups allege in a lawsuit filed in U.S. District Court for the Southern District of Indiana that Bodner communities in eight states including Indiana violate accessibility requirements of the Fair Housing Act.
It is the fourth such lawsuit by the group and its members in recent years against an apartment developer and builder. The plaintiffs say they must go to court to "correct rampant discrimination" in the multifamily market.
S.C. Bodner had not received notice of the lawsuit as of Aug. 25, but the company plans to challenge the claims, said President Steven C. Bodner.
Bodner said the company is "substantially in compliance" with federal accessibility laws. He noted that the suit, filed Aug. 10, does not reference any complaints from Bodner tenants, and said the company goes above and beyond to provide accommodations for its residents.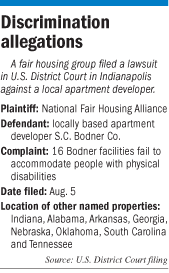 "We have confidence we've done a good job building them, and we'll vigorously defend ourselves," said Bodner, whose grandfather founded the company in 1924. "Just because someone says there's an allegation doesn't mean it's true."
The lawsuit claims Bodner and its affiliated companies have built apartment communities since 1998 with unfriendly features for people with disabilities, including steps, high thresholds, accessible routes blocked by parked cars, thermostat units out of reach, and insufficient floor space for wheelchairs to maneuver.
The suit says the fair housing groups "tested" six of the 16 communities it names in Alabama, Arkansas, Georgia, Nebraska, Oklahoma, South Carolina Tennessee and Indiana. The Indiana communities are in Evansville and Granger.
"These blatant violations, and many others, effectively communicate that people with disabilities are not welcome at the owner defendants' properties," the suit claims.
The lawsuit is part of a nationwide crackdown on apartment developers who fail to follow federal guidelines for accessibility. The National Fair Housing Alliance isn't the only combatant. The U.S. Department of Justice earlier this month filed a lawsuit against the owners of a 276-unit apartment complex in Louisville, alleging similar violations.
At issue is a 1988 law that requires apartment buildings with more than four units built for occupancy after March 1991 to meet certain requirements. Ground-floor units and those served by elevators must have accessible routes into and out of apartments, doors wide enough to accommodate wheelchairs, ample space to maneuver a wheelchair in bathrooms and kitchens, and light switches and thermostat controls within reach of a person in a wheelchair.
In the Bodner case, the plaintiffs are asking the court to find the company in violation of the law, order it to stop renting units until it brings complexes into compliance, and to award compensatory and punitive damages.
The National Fair Housing Alliance says Bodner's violations frustrate the groups' efforts to educate the public about fair housing and help people with disabilities find accessible housing. They say violations also encourage other builders to disregard their own responsibilities under the Fair Housing Act. Officials with the alliance did not return phone messages.
The group likely will look to extract a settlement from Bodner, which it began investigating in 2008. It could be expensive for the local developer.
The Fair Housing Alliance in January reached a settlement with California-based developer A.G. Spanos Cos. in which the firm agreed to renovate more than 12,000 units to make them accessible within three years, establish a $4.2 million fund to help accommodate renters with disabilities, and pay more than $1 million of the alliance's legal fees.•
Please enable JavaScript to view this content.